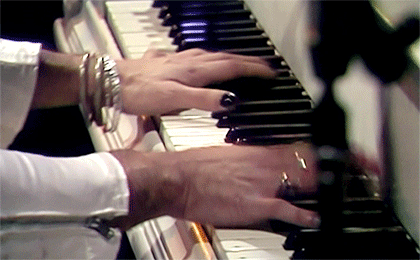 Fairy Mercury is a famous Freddie Mercury (of the 1970s) lookalike/incarnate.
"This day and age Freddie Mercury" claims his adoring fans
Featuring: Russian ballet danseur Rudolf Pavlova
'Fairy' - slang for 'gay' (effeminate gay to be exact...)

'Someone has drained the colour from my wings
Broken my fairy circle ring
And shamed the king in all his pride
Changed the winds and wronged the tides'
(lyrics from Queen's 'My Fairy King' written by Freddie Mercury)

A candid 'behind the scenes' look at entertainer/incarnate of 1970s Freddie Mercury - the ever so elegant
Fairy Mercury's life on and off stage.
'All Dead, All Dead' - choreographed by ballet danseur and owner of Haze Theatre Rudolf Pavlova / Fairy Mercury's management. The video features footage of the glam rock queen during her Flight Of The Fairy tour and features Pavlova. A venue operator at one venue Fairy has performed numerous times had this to say: 'The vocals and piano are eerily Freddie Mercury. Haunting and emotional. If there was such thing as surpassing perfection, Fairy has achieved that. The queen outdid himself with that performance and the way the video was choreographed completed it to perfection. The imagery was stunning! Pavlova makes me envious to admiration how he delivered to perfection the ballet moves such as the balance (arabesque) and pirouettes. If any man is deserving of the lovely superstar Fairy Mercury, undoubtedly it is Pavlova.'
::: Page the video appears on: Exotic Prancer We wanted to start out this new page revisiting the above video that received so many complements by very important people and also Fairy's adoring fans who still to date continue to watch it repeatedly/obsessively. If you enjoyed it come see the ever so elegant 1970s decade Freddie Mercury incarnate Fairy during her Flight Of The Fairy ... Revisited spring/summer tour.
Pre-sale tickets for the glam rock queen's Bristol shows starts Monday (02 May). Special prices for fan club members. Fairy will not have any shows in June. She will be in Vienna the entire month at Pavlova's Vienna mansion preparing for their regal wedding to be held at the mansion on 25 June.
Continuation from the bottom of the page The FAIRY ... Tale Couple. The following written by Ron Craster (personal assistant to Pavlova, stage director at Haze Theatre and for Fairy Mercury's Flight of the Fairy ... Revisited tour).
This is what happened after the Hyde Park visit. I was acting chauffeur for the day for Pavlova. Well, him and Fairy decided to go to Pavlova's Cambridge mansion from there. So Johann Wagner went on his way. Conversation I hear in the back of the limo:Fairy's Persian sibilant purr lustfully purring: 'Is something wrong, darling? Mmm … let me suck your cock so I can have my fashionably naughty bracelet back. Mmm … the warmth of your cock still on it embracing my wrist.'

Pavlova's Russian accent sounding theatrical like the ballets he dances as Nureyev in: 'Not now. I need brandy. (brief silence) Femmka, my heart sank. When I hear you speak another man's name at statue, I thought are we to become the fated lovers of the ballet of Romeo and Juliet? I thought this letter left was -' he suddenly quits speaking. I look into the rear view mirror and see it's because the divine lush creature has silenced him – black nails pressed to his lips. I could tell Pavlova was testing Fairy with what he was saying. Pretending to be jealous lover. He knows he has the love of his life for life.
​The glam rock queen laughs, 'Omg! You have got to be kidding me! You're joking, right? It's not funny, darling!!! Apparently you don't realize how very fucking in love with you I am! What happened to destiny and all that? I want to spend the rest of my fucking life with you! You're MY man!!' (last part literally shrieked like a possessive wild feline). Madly, Fairy goes to open the door to get out and we're in midst of London traffic! Pavlova grabs her and she wildly shrieks pawing at him and he bruisingly kisses her drenched in gloss lips. Pavlova mentioned awhile back on Fairy's public site about confiding many intimate things with his cook. If you're in a position of being a cook, chauffeur, gardener, etc. for people like Pavlova and Fairy… well, let me just say, the revealing candid stories you could tell…There was nothing like me driving the limo and having free live porn going on in back to enjoy. Perfect example of what I mean. Ha!
Gif left: Fairy patting her tits ...
Gif right: Those 'exotic senusous full lips' (as Pavlova calls them) drenched in gloss
Fairy gasping on Pavlova's lips, 'fuck me – fuck me hard, Rudy!!!' I brought myself to glance back into the rear view mirror because oddly things became quiet. The Persian queen was half laying back against the door – head turned to the side a blush on her lovely exotic face (why does … it ... embarrass the lovely creature so?? …) Pavlova literally having her satin shirt ripped open sucking one of her nipples …. Her black nails left hand … 'preening' the Russian prince's light brown bob and slowly moving seductively to his muscular ballet dancer back. I try to focus on driving from the obscene distraction going on in the back seat – wishing I could put up the privacy window but I need to be instructed by Pavlova to do so or experience his Russian temper.
I glance back again and see he has quit savoring her nipple and is undoing his trousers and takes hold her midnight black hair head lowering it to his erect cock. That is when the Russian prince orders me, 'put up window!' So much for my free porn. LOL! When we arrived at the Cambridge mansion, the glam rock queen had her 'fashionably naughty bracelet' back – gracing her left wrist of her black nails left hand ... As we enter, my phone rings. It is one of the 'famous figures' wanting to know if both Pavlova and Fairy would be up for a 'last minute whim' of a private masquerade. I ask Pavlova and Fairy excitedly purrs hugging Pavlova arm to her … tits … 'Let's, Rudy darling! It would be so much fun!!'
Now, the glam rock queen's adoring fans, TRY not to go into your wild frenzy of hyperventilating hysterics over 'matching'. This is how they went in … matching … regal regalia.
The exotic lovely Persian queen and her handsome
Russian prince.
​Hello dears. As you know from the fan club ... I am in Bristol all week rehearsing for my two sold out shows on Friday and Saturday. Thank you all for your support!! I ... ahem ... suppose what Mr. Ron Craster posted should be replied to because I know all of you, my precious fans, have been ... well ... umm .... I literally feel embarrassed by it! Especially what became of it. As you see, it is still on here because yes, Pavlova did allow him to let it stay on here. I joked that I bet if it were Johann who wrote it, it would be 'sordid gossip' and he would order of it to be deleted.
​I know all of you are going to die, well not literally, over this, dears. The surprise guest I had on the fan club a few weeks ago sent me it. It's just another how crazy and bizarre like out of 'the book' and 'the new the book' about myself and Pavlova's likeness to our idols Nureyev and (1970s) Freddie Mercury.
​I might be on later around my Zzz time to post more. Lo💗e and ... kisses 💋 ... to you all, darlings. Fairy
Well here I am, my darlings, and I am experiencing that bloody server issue. How tiresome. Unfortunately, Ron Craster will not be posting about the masquerade because my delectably handsome man Pavlova told him no. I am so unbelievably in love with you, Rudy darling. I can't wait until you join me in Bristol tomorrow. I hope you're still awake and are on.
Pavlova, Haze Theatre/ballet danseur: I am on, femmka. As always, my life is so empty when we are apart. I had to laugh over film clip (I have the movie, of course). He has become very fond of you. We spoke earlier. He phoned theatre. He can not get over your likeness to Freddie Mercury. My forbidden exotic creature, tell me why are you embarrassed? You behave like silly girl and I know you know it is not the necklace that is so very alluring to me ...
~~~ Fairy Mercury ~~~ Mmmm I was hoping you would be still awake and on, dear. I miss you so much!! I can't stand when we are apart. I wish your personal assistant could have told about the masquerade. My precious fans, it was surreal!! Talking about ... fairy .... tales. He danced ballet for those there then he pirouetted his way to where I was standing and literally swept me off my feet - so princely. Of course, I was 'shrieking like a wild feline' over it. It was so romantic. If only I could tell you the rest .... I can't answer you, Rudy darling.
Pavlova, Haze Theatre/ballet danseur: Ah that is too bad, kitten. Perhaps when I am with you tomorrow in Bristol and a little champagne, then you tell me. Yes, the masquerade was quite enjoyable. Oh if only you would dance with me, femmka, during your performance of Bohemian Rhapsody - for your adoring fans - instead of having me dance alone.
~~~ Fairy Mercury ~~~ Rudy darling, it would be more like A LOT of champagne! I wish you didn't make me so fucking shy of you ... I mean, when you made that video that all my precious fans were referring to as 'the tits video' and you obtaining that using a maraca for a tit footage. Then what you do when I dress scantily, by kissing my hand then you'll kiss me there after your delectably handsome Russian accent says to me 'there you are and there they are'
Pavlova, Haze Theatre/ballet danseur: You sleep now, femmka. We speak tomorrow when I arrive in Bristol ....
As far fans wanting reply to what costume designer wrote at end of Fairy ... Tale Couple page, asking me about possibility of the unruly glam rock queen playing concert in Hyde Park. I have plans to speak with several people after her Bristol concerts.
Me and Jorge. Practicing pirouette....
My forbidden exotic creature, MUST wear the pale blue eye shadow or wedding is off ....
I also forget to tell you, Ronnie old boy sent wedding invitations today. Yours .... Rudy
Does Curiosity Kill The Kitten Cat???
Pavlova, Haze Theatre/ballet danseur: I post this to you, Fairy's adoring fans, because she has asked me to. Dame Eleanor was who she was. I cannot reveal (confidence). She was very respected. But I am far more ...
I made - as you say - 'slip up' revealing several people I know knew both Nureyev (my idol) and Fairy's idol - Freddie Mercury. The man in particular who she had as guest on fan club and she spoke of in following she had posted:
'The person who was edited out of the photo I was signing an autograph for kept telling me how awestruck they were by my 'striking resemblance' to Freddie Mercury, 'you even move like her' (yes, using the feminine... ). (Ref. highlighted scan from book in footer) It made me uncomfortable how the person kept watching almost rudely staring at me! Like in this reflective way. As if remembering. You know, one of those old scenarios of meeting someone who was a 'long time friend' of the family and they're saying to some child, 'you look just like your mum, you even have some of her habits' and then sitting there watching the child as if reminiscing about mum. That was how the man behaved towards me.'
'I'll have you seeing double ' (from Queen's Flick Of The Wrist')
Re-creating Hyde Park.
... and then there is Ronnie old boy.
This is what the lovely exotic creature wanted me to share with you, her adoring fans. I am willing to.The man is very close friends of mine. Yes, I knew of 'the book' as she calls it. The one about Nureyev and Freddie's relationship. What she wrote (above I copied from other page), the man phoned yesterday telling me he had sent her movie clip - amused by what my personal assistant had written. The extreme likeness we are to Nureyev and Freddie. He says how awestruck he is over her strong resemblance to Freddie Mercury of that time. Who was very shy.... Then he says so many things about her brings back memories to him. From her personality,of course looking identical to, and the ways she moves. Then he spoke of those things she had taken out of those 2 books (appears on Mirror Image page). She is so amused by her fans curiosity. Which fans usually are towards the star they adore. But there are things about myself and these people I know that she is not allowed to reveal.The man I speak of tells me, 'you're aware of those books she's managed to obtain. Freddie was very obsessed with Nureyev. The contents gives a general idea the extent of their relationship.'

I am going to re-post all of it from off the Mirror Image page below along with additional screenshots of other mentions. I can easily see why the page Mirror Image on her public site would be one of her favorites... For you, friend 'Mr. X' .... (the ballet was when I danced as Nureyev in The Sleeping Beauty as Prince Florimund)
and here is my Sleeping Beauty.
My Giselle.... looking as though she is a
surreal dream.
Fans, please always check the homepage for important current news/updates.
​
Hello dears. It is 1am and I am so fucking drunk!! I was rocked and fucked so hard by all of you who came to see my Bristol concert (last night and tonight). We are just now leaving Bristol and I will most definitely be returning. As a matter of fact, my precious fans, I will be returning the last weekend of May (this month) before I head off to Vienna.
I am in the back of Pavlova's limo. and well .... the whole distracting enormous fucking cock that I just now gave a blow job to... I had to laugh so hard over the new page/feature. It wasn't surprising it would have exaggeration - really, Geoff?! 'Sworn secrecy' (picture me in wild hysterical laughter, my darlings!!) Seriously, I am so very glad (for his sake...) that all of you enjoyed what little he's done with it so far.
Mmmm... the delectably (highly pleasing) handsome princely photo on the playbill though ..... I might just have to put my 'sensuously erotic (reapplied gloss) lips' around that enormous fucking cock again .... As my PR man (and web designer) mentioned on the homepage, I will be back in the Bristol area next weekend to fuck rock fans in Cardiff (fans in Bristol, Cardiff is moments away - 45 miles is what I've been told - so cum come see me again). My fans in Bristol, you brought it .... hard ... and I really enjoyed performing for all of you! All of my concerts so far - since the start of my Flight Of The Fairy ... Revisited spring/summer tour have been so very memorable!
Quick run down so far - my Flight Of The Fairy ... Revisited tour making history
​
London (Haze Theatre) - both nights - sold out 15 minutes

Manchester - both nights - sold out 10 minutes

Brighton - both nights - sold out 8 minutes

Leeds - both nights - sold out 8 minutes

London (Haze Theatre - return) - both nights - sold out 10 minutes

Bristol - both nights - sold out - 10 minutes
I will be playing Cardiff the 13th & 14th (May). Then two shows in London (not Haze Theatre. Another venue) on the 20th & 21st (May). Then the 27th and 28th (May) last weekend in May, I return to Bristol. Then I will be off to Vienna... I am so nervous, honies!!! As for the (ahem) new feature/page ... what was picked up on the mic. that supposedly those in the front row seats heard. Me 'dancing' with my delectably handsome prince was a last moment thing. I had to laugh. Backstage he tried to show me 'simple moves' that weren't even simple then he shook his head and said, 'Femmka, no offense, but your legs are too long for ballet. I just pick you up and relax or I go off balance and to the stage we go. What embarrassment that would be for both of us.'
​
Here's a bit of camp for you, dears.
First gif - Me: 'hold on, Rudy darling, let me get my ballet slippers on' (takes merry old time doing so).
Second gif. - Pavlova: 'now, kitten, these are ballet moves I teach you.'
I mean, he makes it look so graceful, surreal and easy and it isn't (easy, that is).
Pavlova, Haze Theatre/ballet danseur: What you do when someone won't - as you say - 'let you live it down' something you said and did? Speaking of drunk ... when I showed up in Manchester to join her for her shows there. I came to her drunk because life without her, to me, is unthinkable. She STILL talks of it. When I foolishly tell her cats in Russia say 'myaow' and in England 'meeow' because they hear differently. I ask her back stage she needs a brand. She tells me, 'I've got one, Rudy darling, Myaow Meeow Productions.' Cat gif at bottom of homepage, apparently, that is now 'logo' for silly girl name 'productions'. Campy effeminate queen.... (the erotic way alluring necklace 'hits' your tits in that gif, femmka .... it is so very arousing ....)
(side note to fans: new and old. What Pavlova is referring to is on the page Flick Of The Wrist).
​
​Talking of that page, a little did you know for the glam rock Persian queen Fairy's adoring fans. She took this photo of Pavlova (left) outside his Cambridge mansion hours before she left for Manchester, although it was credited as Haze Theatre. I placed a photo of the divine lush creature Fairy beside it. It is now 3am here in London. I have been told Fairy passed out just as they arrived in Cambridge. Pavlova has carried her in. It's a good thing. #1 - it's her 'Zzz time' and #2 - we are experiencing that annoying server lost connection issue very badly!! Look forward to your star, the ever so elegant Fairy Mercury to be on again tomorrow. In the meanwhile, enjoy what was posted along with the new feature-page Loyal Subjects. J. Schumann (PR & web designer for FM)
​Hello dears. I am so happy to have my fan club because the issue with my public site has gotten worse! My web designer and PR man contacted them and hasn't received any reply. Heavy sigh! Anyways, this is me doing what I posted to you, my precious fans, on the fan club. Deciding to give it another go. Guess what? The moment I got up the 'site editor' I got the annoying 'server connection lost' message. So me right now!!
Yes, that for real is me - looking identical to my beloved idol - 1970s decade Freddie Mercury. Iconic Queen II album (inside and out - black queen - inside, white queen) and the Sheer Heart Attack album is what I have the most strongest resemblance to and what MANY people have said I look 'mirror image' of and I personally favor those looks of my idol. Then there's that 'new collaborator' with his 'new feature' (Loyal Subjects) carrying on in the fan club that he's so upset he can't add more to it because of that server issue. Oh the drama!!! Mmmm... that playbill picture though. My delectably handsome prince looking so princely.
Anyways, my darlings, I am in Cardiff rehearsing for my - SHRIEKS like wild feline - another record breaking sold out shows (this cum coming Friday and Sat.). 'You brought me fame and fortune and everything that goes with it, I thank you all ' (from Queen's 'We Are The Champions' written by none other than my idol) I thank you all and I love you all, dears!! Thank you so much for choosing me! Well anyways, as with the Bristol venue, the Cardiff one will be the first time I perform at it. Both lovely venues. Omg! Remember the Manchester one I told you about?! The disgrace of my delectably handsome Russian prince taking a rest backstage in squalor!!
Me talking to you, my precious fans at the Manchester venue
​What was really hilarious about it was when he so nonchalantly said in his delectably handsome broken English Russian accent (which really fucking turns me on ...), 'Remember us joking, 'not fit for prince or his queen'? Oh, but femmka, I've danced in the grandest theatres where the dressing room was a mere closet size space. They aren't meant to 'live in'. ' Then he gets down on the floor, again nonchalantly, doing warm-ups for his ballet and I swear it, darlings! There were rats and he thinks I was just having an overactive imagination and being a melodramatic silly girl.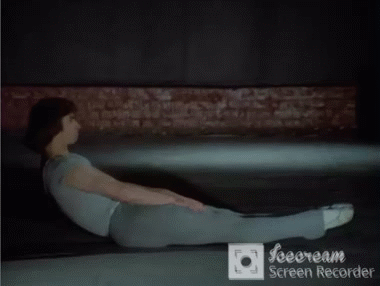 I had to film it because it was ridiculously wild! Him taking a rest among the squalor and nonchalantly warm-up bit. Then there's me (right) with my ... ahem ... 'cascading' necklace performing at that venue.
I mean, the man lives like a prince! I expected him to find it unsuitable for his queen star and even himself. Now what I was about to say, dears. As you know, tomorrow is Tuesday tea with that wildly hysterical old couple. I have been asked to skip my rehearsals at Cardiff to join Pavlova, that old geezer Sir Thomas and 'Mr. X' (as I'll just continue to call the man since that's what Pavlova decided to refer to him as) for tea at his Cambridge mansion. I am so nervous!! I think it might be about Hyde Park!
I just can't, my darlings, what happened yesterday when I was at his Cambridge mansion. His personal assistant
(also stage director at Haze Theatre and for my Flight of the Fairy ... Revisited tour) Ron Craster will be posting about it either later this evening or tomorrow. The part Pavlova did the strike through on this page. Let me copy/paste it:
(the erotic way alluring necklace 'hits' your tits in that gif, femmka .... it is so very arousing ....) He tried to talk to me about it. I mean, it's too embarrassing! Something you want to happen but just not talk about .... It took me forever (2 hours to be exact) to finish this because of that annoying server connection issue and trying to add photos with that issue is ridiculous!
​
Love and kisses to you all, darlings! Fairy