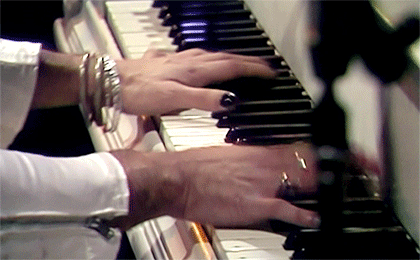 Fairy Mercury is a famous Freddie Mercury (of the 1970s) lookalike/incarnate.
"This day and age Freddie Mercury" claims his adoring fans
Featuring: Russian ballet danseur Rudolf Pavlova
Glam rock queen eyes her first ever European tour. Are you ready, her 'European honies'?
(photographed with 'Mercury' filter) Photo right: Auction broker Mr. Francis James Boyd with multimillionaire Russian ballet danseur Pavlova. The photo was taken the day Pavlova romantically gifted Fairy the ring at the Peter Pan statue in Hyde Park before her first ever concert at Haze Theatre. Relive the romantic event again the page:
____________________________________
Pavlova, Haze Theatre/ballet danseur - Well then, I suppose I should get around to replying to Jorge ...It is 8pm, my femmka and I have just finished dinner. I have settled myself to enjoy a glass of cherry brandy and have no idea where she has 'slinked off' to. So I have been told by Jorge, apparently the unruly queen's 'sweaty tits' have upstaged the new edition of online fanzine in fan club comments - which I don't read and it has been explained why. Jorge, the caption on the photos were most likely written by that sordid gossip costume designer trying to provoke my fiery Russian Tatar temper. If only any man were to experience her sexually ....
Francis Boyd is a hit. The man always was interesting. We are in midst of wrapping up ballet coverage on fan club then we will turn more of our attention to public site.
To Francis, she is silly campy queen. My fine friend I refer to as 'Mr. X' was talking about some silly thing in 1970s that was popular and sold in back pages of 'trash magazines' called Sea Monkeys and now she wants to know if they can still be purchased. Don't be surprised if she contacts you about it.
Oh, what have you gotten yourself into ......

Francis J. Boyd, auction broker/online personal asst. to FM: Pavlova this is an advert about them. I remember them from the '70s. They are shrimp brine (yuck!) and they only live for a month if you're lucky. Yes, she was being her campy queen self contacting me about them. I trust you're having a pleasant evening...
~~~ Fairy Mercury ~~~ Francis, me and Rudy laughing over the tail fin of that male one being positioned over where it's cock would be. Seriously?! I mean, probably so tiny - oh never mind!! Find someone selling 1970s mag. back issues of our idols. He is so fucking sexy! Shaking his wispy light brown bob saying, 'no! Absolutely not!!! That is utterly ridiculous!!' over the Sea Monkey advert you posted for him to see. Talking about hair... I'm still embarrassed about the mishap during the 2nd night of the ballet when a strand of my long midnight black hair managed to erotically cling to my glossed lips and my precious fans carrying on in the comments wondering if he got an erection from it because you could see his attention was distracted by it as he was in middle of an arabesque. What a disaster, dears!!! We should have all this on the new page we'll be creating and not take up the boys' fanzine page.
For you, my darlings. Revisited - 'Various Live At Haze Theatre' from my summer tour 'Flight of the Fairy ... Revisited' Who's ... anxious ... for my first ever European tour?!
Below: Video footage Fairy's costume designer Johann Wagner took of the Peter Pan statue in Hyde Park including a shot of the Serpentine. The area holds a special meaning to Pavlova and Fairy has held a long time dream of re-creating the legendary 1976 Hyde Park gig Queen performed 'Picnic At The Serpentine' which to date, is the largest live concert event London has ever had.
Transferred from homepage:
New note to Pavlova, what are we going to do with your femmka?!Now she wants the new page title changed to 'By Royal Appointment' because from her email: 'it's regal and would be so '70s Queen and Nureyev'
Your thoughts???

To Jorge from Pavlova - transfer your 'note' to me to new page. We discuss in few hours.I am VERY busy at moment - important ... I will be also posting details on what she shared with fans - strand of her hair bit.

Jorge Schumann, PR to FM: Pavlova's valet texted me saying he'll post to tomorrow.
Pavlova (Haze Theatre, ballet danseur): I post with help of my valet Ron Craster. I first start with this. Fans must take seriously and remember there are many very important people who look at your star Fairy Mercury's website. They expect certain things from myself considering my 'status'. Francis Boyd even has reputation to uphold. Just because these people I speak of are 'out of sight, out of mind' does not mean you are to forget to remember what I say. Because in our lives offline, we have to 'deal with' these people.
Now to answer you, Jorge, change the page's name. It is my femmka's fame. She strives to stand out, uniqueness. How you say, Jorge, in PR efforts? 'Catchy'. What she wishes for it to be called is more 'catchy' than Royal Conquest. Apparently Goldman can't spell Russian names such as my idol the great legendary lord of dance Nureyev nor can he spell French words such as danseur. But I forgive him because I am impressed with him since day he accidentally slipped me footage of my femmka being campy queen backstage emulating my bow when I had asked him for video he had taken from her concert tour to choreograph music video for her.
Now for 2nd night of ballet she spoke of. Ballet is graceful and elegant. When you are onstage, you can not be seen adjusting your leotard or scratching an itch and that includes stopping to brush your ... unruly ... midnight black hair from 'erotically clinging to my glossed lips' my femmka phrased it. You also can not allow yourself to be
distracted ... such as someone in audience cough can be heard over orchestra. She is melodramatic as her idol 1970s decade Freddie Mercury was said to be - 'campy theatrical queen'. Overly sexual - she ALWAYS has to make things sexual. Such as apparently I became distracted by her hair 'erotically' clinging to ... glossed lips and had an ... erection. I am professional ballet danseur since age 9 - that is 29 years of my now age 38 life! I learned from people who danced with, 'worked with', and knew ballet legends - Nijinsky, Karsavina, Pavlova and my idol Rudolf Nureyev. Even to dance opposite of my femmka, the one who I live for and consumes my every waking moment and even my dreams, I can not and will not be distracted. I love Fairy in ways words can not describe. She wishes to exude and eroticism and that she does very well...
Francis J. Boyd, auction broker/online personal asst. to FM: I'd like to thank you, Pavlova, for addressing what you did pertaining to myself. Btw, any 'Jason Long' (such as PayPal) has been explained. But I will explain it again. As you fans of Fairy know, he ended his life last year, early fall, when he learned his cancer returned and was inoperable. He had created that PayPal account and my partner Raymond and I call it 'the funded Jason Long PayPal account' because we can't bring ourselves to close it. He was like a son to us. So we use it (at Fairy's request) to purchase things online through sites that accept PayPal. Whether it be purchasing things for ourselves, family members or on Fairy's behalf. All of you know the story of Jason and his determination for Fairy to succeed in her quest for fame. Of course, you read in those screenshots me mentioning him in my 'story' and how I played a part in uniting Pavlova and Fairy. I want to take the opportunity to thank you, Fairy/Pavlova's fans, for welcoming me.
​
_____________________________________________
​
~~~ Fairy Mercury ~~~ Hello dears. It is just now after 10pm here in England. I could let a day go without a hello. HA! A little Bohemian poetry for you. Seriously though, it would make a lovely lyric to a song. You won't believe the day I had. Apparently, my personal photographer's asst. photographer for whatever reason - I guess they were somewhat explained ... has really won the favour of my delectably handsome prince. He had his valet invite Philip Goldman to dinner and told he could bring a guest. I laughed over who the guest ended up being. John - you know, Price - my new mock up Queen band guitarist. The bashful boy who can't even accept he's the guitarist for a famous 'queen'. Yes, that one!
They arrived, were let in my the valet and I heard Philip Goldman instructing John, 'don't touch anything and don't even so much as look like your in awe of the extreme wealth because Pavlova will make snobbish remarks that only peasants find it necessary to 'fawn over' such things.' Me literally having a nose in this conversation going on in the foyer, darlings! Deliberately, I came dressed for dinner in the black velvet 'wrap top' adorn with rhinestones - tits ... on full display.
Below: gif of me made from concert footage with my 'sweaty tits' ... that apparently upstaged the new edition of the online fanzine. I included photo of me with the necklace 'cascading' down my also ... 'sweaty tits' ...
I was being quite the unruly tart over dinner probably breaking every high class etiquette imaginable that he is so accustomed to. Things like proper dinner conversation. Considering who are dinner guests were, I took advantage of the situation and brought up the new edition of the online fanzine. This is what I ... purred ... in the most erotic tone I could manage, dears! 'The thing with my precious fans reaction over those sweaty tits photos - I mean, what can I say? I rock 'em hard just like I ride your enormous fucking cock so hard, Rudy darling.'
He is sooooo fucking sexy, dears!!!! He snatched up his cloth napkin and placed it to his lips with a quiet cough and he was blushing!! He then cleared his throat and excused himself from the table. Philip Goldman with this suppressed laughter on his face and ... well, John, the bashful one ... My delectably (highly pleasing) dashing prince's valet came in and told us that Pavlova wishes for us to have dinner without him. I mean, I laughed!! I asked - I mean - purred ... 'where is he?!' He was having brandy in the parlour. I glided off to find him. That Sir Thomas was in there and again, I stopped outside the room to have a bit of a nose. I heard that Sir Thomas saying, 'you know Nijinsky was known for that effeminate erotic stage presence.' Again, being 'unruly' - he refuses to tame me and have me live by his high class standards/way of life ... I slinked into the room purring, 'Rudy darling, Francis Boyd bought some Nutcracker themed games and it was too obvious why. Nureyev and his famous The Nutcracker ballet. I still wish you would teach me the grand pas de deux (dance of two) that was so legendary off that. The Sugar Plum ... Fairy. It's so romantic.'
Below photo: Pavlova having tea on floor of dance studio the entire basement of his Cambridge estate is comprised of.
That Sir Thomas looking perturbed over my intrusion, snobbishly said, 'are you already done with dinner? I do hope you sent the guests away and not let them meander around. Try to choose appropriate dinner conversation. Pavlova has danced as his idol Nureyev in the ballet of The Nutcracker. I can imagine the two of you doing the grand pas de deux in that ballet would be quite romantic and go off splendidly with the fans. Pavlova, grant her wish.' He (Pavlova) got us from where he was seated avoiding looking at me ... and finished off his brandy then his sexy broken English Russian accent said - looking off, 'yes, the legendary grand pas de deux Nureyev did with Merle Park. Spectacular. I was taught to dance it exactly as Nureyev. We would need instructor to teach her ballerina part, Sir Thomas' That Sir Thomas telling him 'we can arrange it.'
So I guess this exotic bitch will be dancing more ballet, my darlings, with my prince soon. HA!!! Anyways, later, this was only a few hours ago. When I was alone with him, I apologized for ruining dinner. Him saying, 'apologize for what, baby?' I just fucking can't!!! .... I then asked him if what I said made him cum. He told me it did and that's why he excused himself from the table.
Awww, it was so romantic him coming on here and telling all of you, my precious fans, that he loves me. When I read what he had wrote, I told him that I just want to flaunt to my fans my prince has an enormous cock and just fantasize things like him becoming distracted over my long midnight black hair clinging erotically to my glossed lips and him having an erection over it while dancing - I wasn't trying to insult his professionalism in any way. He just stood there staring at me for the longest time before saying something in Russian. I pressed my body against him and quietly erotically purred at the corner of his lips, 'speak English, Rudy darling.' I heard him quietly breathe, 'it's very arousing' then I could feel him start to move his lips onto mine - instead he stepped back and delivered his princely kiss to the back of my black nails left hand. When you're made to look like an old newsprint photo.
~~~ Fairy Mercury ~~~ Hello again, my darlings. Francis and his partner have headed off leaving our beloved England. I wish them a safe journey. He said he will start searching for things most likely Tuesday. I slipped him a note to find me the Sea Monkeys. HA!!! I mean, it was too hilarious! I told him in the note I left that I am being 'unruly queen' and want to grow them secretively in my London home away from the dreamy blue-gray eyes of my handsome prince and perhaps video tape them for my precious fans. I slipped it in his jacket and can't wait until he finds it.
Anyways, we will be finally getting around to creating a video to promote my first ever European tour. I've decided it will be a 'sampler' of live performances I've done throughout my 25 tour dates I did on my Flight Of The Fairy ... Revisited tour. As you know, dears, that tour began in March. My European tour will also begin in March and will be called Fairy Soars and will start in Germany where my costume designer Johann Wagner and my PR man Jorge Schumann originate from. So there are the details, so far, my European honies so anxiously waiting to hear more.
I will be on later this evening with my prince. Discussing what I posted last night to you, my precious fans, such as what became of Philip Goldman and I forget his name ... Because silly girl me didn't see them out. HA!!!
Pavlova (Haze Theatre, ballet danseur): Yesterday we had issues and couldn't post so we post today. I tell what happened. We start up stairs. My the exotic creature hugging my arm to her … tits …after I tell my valet we are off to bed. My valet at foot of stairs says, 'will your dinner guests be spending the night?' I look over at my femmka saying, 'Fairy, you didn't!' She stands black nails left hand preening top of midnight black hair head (in habit …) eye lined eyes gazing at me with 'cat that swallowed the canary' expression. Lovely gasp I hear from her as I take her hand and pull her along with me hurrying to the dining room.

There they sat still at now cleared dinner table. I tell Goldman, 'you leave now, Goldman, and take boy with you. Dinner was – (I paused not wanting to say 'ruined' because it would only offend my femmka and I wouldn't say her talk giving me an … erection … 'ruined' …..) disrupted by my femmka's lascivious talk. We discuss what I wanted another time. Thank you for coming. My valet will show you out.' and gesture for valet to show them out.
I turn to the exotic creature Fairy and press my light brown fringe to her midnight black fringe (*fringe – bangs) and tell her, 'I will never tame you. I will never get used to your unruly Bohemian ways. Almost everything you do is considered inappropriate to my high class society – upbringing.' I decide to take her off guard and taste of her drenched in that gloss full sensuous lips. Lovely soft 'mmm' purr followed by … aroused … moan. Then erotically whispers on my lips, 'let me suck your cock, Rudy darling' Apparently to kiss those 'drenched in gloss' lips is an invite to a blow job …
_________________________________________
​
~~~ Fairy Mercury ~~~ My prince is still quite the mystery to me, my darlings. We were sitting up in bed and it was charming … how he was comparing how my feet are so slender in comparison to his ballet danseur feet. I took the opportunity to ask his what my personal photographer posted on my public website (the fanzine page) when he was curiously wondering why Pavlova was named Nikolai at birth instead of Rudolf (after his idol he is 'destined to be lord of dance Nureyev') His reply was strange and vague – 'to protect privacy'. I asked him who's privacy and became frustrated as he repeated that damn, 'things you're not ready to learn' bit!!
He laid down, back to me and I told him, 'Rudy darling, you legendary idol Rudolf Nureyev kissed you on the forehead when you were baby and talked about my idol Freddie Mercury to you! We NEED to finish that conversation I was trying to have with you and even took it to my public website not that long ago.' I hear him say something in Russian, then in English,'we need to go to bed. No more discussion. I not have my femmka go into shock again over topic!' I sighed and laid down – back to his back and … purred, 'I bet you were a surrogate because of that cryptic bit you said when I tried to have that conversation with you. When you said how does someone look so identical to someone if they aren't related. I am not related to Freddie – but there is such thing as people being doppelgangers of a famous person. That is my fortunate case because I idolize – worship and aspire to be 1970s Freddie. But you, dear, you were practically molded and made in Nureyev's image from what little you have revealed about yourself!' (Unruly Queen page on my public site being one instance)I will post more soon.
Love and kisses to you all, darlings. Fairy xx
F.J. Boyd, auction broker and online personal asst. to FM - Fairy, just wanted to leave you a quick message on your site instead of email. I found the items you wanted on Nureyev and '70s Freddie Mercury and a few more items of interest. Against Pavlova's wishes, I went ahead and bought those silly Sea Monkeys for you. You should read the Amazon reviews being left for them. Speak soon.
Pavlova (Haze Theatre, ballet danseur): Francis Boyd, you dare defy the lord of dance. I'm joking. Silly girl makes gif of my reaction to you buying Space Sea Monkeys for her. I post gif of her alongside because without my femmka in my life I am nothing!! I am quote of my idol Nureyev (also included below from site's photo files out of books on her idol '70s Freddie Mercury and my idol Rudolf Nureyev's personal relationship). She is very enticingly lovely in gif is she not? My femmka has herself convinced I am 'secret surrogate child' of her idol and mine. I know not what to do. The unruly creature keeps demanding to speak with Sir Thomas. As you know (and her adoring fans) I have tea every Tuesday with Sir Thomas ... anyways, she wants to speak with him 'to learn things - the truth' about me.
She's asked my fine friend who I refer to only as 'Mr. X' (who knew both our idols in 1970s) and he told her that he does not know and is being honest when he says this. He is so very captivated by her identical likeness to her idol '70s FM. Well then, Francis, I am sure Fairy will very much appreciate many things you manage to find.
We both be on again very soon.
~~~ Fairy Mercury ~~~ Aww my precious fans wondering what's going on. Everything is okay, darlings. Mmm isn't my Russian prince so fucking sexy in that gif I made? It freezes a little, most likely because of the way I watermarked it. I filmed his reactions as he was talking about Francis having gone through with buying those Sea Monkeys for me and made part of it into a gif. I fucking love him so very much!! Romantic charming prince just like the ones he dances (as his idol) in the ballets. Francis, I can not believe some of the things you found for me!! I am very pleased indeed. Thank you for accepting to be my 'online personal assistant' buying on my behalf again. Pavlova is right, you're the man to get the job done. Rudy darling, why did you end what you posted the other day like you did? Those important people reading would have found it inappropriate you talk about the blow job I gave your enormous hard fucking cock, perhaps?....
F.J. Boyd, auction broker and online personal asst. to FM - Gracious 'queen', thank you for the kind complement. I am honoured to have accepted to buy on your behalf once again. As I have said many times, I have always admired the young lad - the multimillionaire Rudolf Pavlova and I am so very happy he found his Freddie Mercury - you. The one magazine back issue has both Nureyev and Lord Snowdon in it, I thought I'd mention that ... Your fans are longing to know what 'the FAIRY ... tale couple' will be doing for Christmas. Hope you share soon. Where are my manners?! I nearly forgot to reply to Pavlova, yes, your femmka is very 'enticingly lovely'. The gif of you she made, fans are riled in comments section of fan club over ring on your middle ... finger. Your wedding band, I take it? Would be so 'overly sexual' like your femmka to have you wear it on that finger instead of the traditional (so bloody straight people dull trash) 'ring finger'. Such a very attractive couple, you two are.
Pavlova (Haze Theatre, ballet danseur): Laughing. How observant are we, Francis. My femmka's fans notice every detail. That is how impressively devoted and involved they are. Yes, you are right what you say about her 'overly sexual' and it's the only gay way to marry, is it not?
~~~ Fairy Mercury ~~~ I fucking love it!!! NOTHING goes unnoticed to my honies. I love you all. (Purrs erotically) mmmm... Rudy darling, your 'queen' is so very aroused right now ... you know what I want to do to you? Get my lips dripping ... wet with gloss ... and verrrry sloooowly slide your middle finger into my mouth teasingly hinting to wanting to give you the most erotic naughty blow job .... Ahem - anyways, my darlings, I'm laughing as well over your comments you've been leaving about why have things gone so quiet over at 'Loyal Subjects'. That bashful what's his name who is supposedly a guitarist for some famous tart queen must be still in hiding. HA!! My prince and I will discuss Xmas soon. xx Fairy
​
__________________________________________
​
~~~ Fairy Mercury ~~~ Hello dears. Francis got the Sea Monkeys!! Isn't that just grand?! He opened it up and scanned one of the pages from the booklet for me. I have it pictured below. I highlighted 2 things on it ... Remember how I told you I love anything ancient Egypt? He has sent them onto me and I can hardly wait to get them!! So I just thought I'd pop in quickly to post about it since all of you were so amused by it. We'll be on soon. Love and kisses to you all, darlings. Fairy x
Pavlova (Haze Theatre, ballet danseur): Following being said sarcastically. I would really like to thank my fine friend 'Mr. X' for telling my femmka about those foolish Space Sea Monkeys and for Francis Boyd scanning all 15 pages of that booklet for her to see, while she waits to get foolish things. She has now become obsessed with it! They talk about getting 'plant light' and have a ridiculous order form where you can buy 'banana treat', 'gro-kwikly' plasma, 'red-magic vitamins', 'cupid's arrow' and more. Then she - how you say? - 'carries on over' part about 'dance of courtship' trying to make it out of some ballet. Then she learns they have website and wants to go look at it! H.E.L.P!! I will offer good amount of money for anyone to intercept package from reaching her London address!!! In all seriousness, I love you, Fairy, more than tongue can tell. Campy 'silly girl'.
​
Featured Video: 'The Prophet's Song' What you can expect, Europe!
Are you ready to be rocked by the glam rock queen™ come March?
The Prophet's Song
A live performance Fairy did of Queen's 'The Prophet's Song' during her last show (in Bristol) before going off to Vienna to get married. We hope you enjoy the video and if you haven't seen her perform, we hope the live footage moves you to want to see the very talented eerily 1970s Freddie Mercury lookalike/incarnate's tour. It was once again choreographed by Pavlova. One part will absolutely send chills through you that he brilliantly did. The footage of himself as Fairy is singing: 'Heed me not, let all your treasure make you. Fear for your life, Deceive you not the fires of hell will take you, should death await you ' – The footage is very theatrical. Pavlova had this to say about the particular lyrics of the song, that it reminds him of the ballet of Giselle….
-- written by Johann Wagner, Fairy's costume designer
​
_________________________________________
​
Pavlova (Haze Theatre, ballet danseur): You fans of my femmka influence her! I hear wild laughter and wonder what she is - how you say? - 'up to'. She was being campy fulfilling what she said she would do!
Wanting sordid gossip her costume designer to film her 'doing something unruly' in her fur.
The fur that I - Pavlova - gifted her last Xmas, identical to the one her idol was often seen wearing in 1970s.
Like the wild feline she is, she campy 'silly girl' managed to climb up one of the trees on my Cambridge property and was hanging from a branch, by legs, upside down in the fur. Her lovely long midnight black hair AND the fur covered with leaves and debris!
I seize costume designer's phone (what this unruly scene was being filmed with) and ordered costume designer to leave. Phone will be returned in due time after I see to it my valet deletes what was filmed off it! I have had my tailor send fur off to dry cleaner. I tell her it is not the fur I am concerned about, that she could have been seriously hurt! So this will not - how you say? - 'see light of day'. The exotic creature is so very lovely, still so very shy of me ... After holiday, we begin work on music video for her that's she's spoke of.
Left: Glam rock queen™ Fairy Mercury looking exotic as ever in fur gifted to her by ballet bad boy.
Right: The lord of leather Pavlova stepping out of private limo
~~~ Fairy Mercury ~~~ My darlings, I sat here debating on whether I should post what I am going to here or on the fanzine ... considering what I am going to post was mentioned on the fanzine by I don't even know who that is. That shy boy who talks a lot about cocks ... and some tart with a bracelet or something. The 'reaction video' as it's become known as that I filmed of my delectably (highly pleasing) Russian prince.
I've sat here the past few days since I posted it on the fan club reading the comments so many of you have been leaving carrying on about how he looks/carries on talking to me while I was filming him. The few gifs I had made from off it .... I am so in love with him!!
What he wrote, fucking charming prince how he handled it. Him frantically speaking in Russian and my costume designer telling me what he was saying - 'I'll die if you break something, femmka!!' Then he yelled for his valet to bring a ladder. I felt so ridiculous, dears, just hanging there like that with all the commotion going on over it! He climbed the ladder refusing to let his valet and I nearly fell when he took hold of me saying, 'relax, baby, I have you.' I mean, I just can't!!! I asked him to take a shower with me .... I'll just say this .... apparently ... lathering ... my long midnight black hair was .... arousing ... to him. I on purposely let the lather drip down on my ... tits ... I'm just going to stop there. Maybe later, darlings .... New posts (yes, more than one! Are you ... excited, my precious fans?!) coming soon! Fairyland and Androgynous Queen
​
____________________________________
​
More Details On Fairy's 2023 European Tour - Fairy Soars
​
As you fans know, her European tour begins in March. Germany. I am originally from Dresden. Johann Wagner (costume designer) is from Berlin. Fairy will be performing in Dresden, Berlin and Hamburg Germany. Then onto where ballet originates – where ballet legend Rudolf Nureyev defected from Russian to – France.
Although MANY ballet legends were from Russia – such as Nijinsky, Anna Pavlova, Serge Diaghilev, Tamara Karsavina – the list goes on.
Then onto Greece – land of Greek mythology – Mercury (Hermes) that Fairy's idol Freddie Balsara changed his name to becoming the legendary Freddie Mercury. To name a few of the major stops on her first ever European tours. Fairy is hoping to conquer Japan, although not a part of Europe, but the country Queen was very famous in. Her idol Freddie Mercury was a collector of Japanese antiques. Fairy knows Japanese so translation for her wouldn't be necessary. --- Jorge Schumann, PR to Fairy Mercury
Following conversation has been edited for relevancy
Oliver D. is a fan who requested our lordship Pavlova's 'presence' and it was granted
Oliver D. : First off, I can't even express it in words how in awe I am of you and Fairy. You really can 'fly' dancing ballet as your idol Nureyev. I've been a fan of Fairy for the past 3 years. Us fans were so elated when you came into her life - her Nureyev - completing her being so '70s decade Freddie who had that obsessive crush on Nureyev. I could go on and on but I don't want to take up too much of your time. You need to be with Fairy and make sure she recovers :( I am so captivated by the two of you.

[section omitted]

Because she has way over 9 million fans with fan club membership alone. She's married to a multimillionaire. She's nabbed the attention and friendship of the famous bloke who knew her idol (Freddie) in the '70s and your idol (Nureyev). She's selling out venue after venue on the tour she just came off of. She's now a major interest in Europe with loads of European fans.

From Pavlova - [section omitted] Incidents and stupidity that holds no importance or meaning to my femmka from moment she and I met. She doesn't dwell on negativity shown to her and why would she? Fools who have no importance or meaning to her or her fame. My fine friend who I refer to as 'Mr. X' you've mentioned. He was direct - no coward - willing to reach out to Fairy DIRECTLY and be impressed with her and her extreme likeness to Freddie Mercury who he knew and knew well in the 1970s. It's enough - satisfactory enough when it comes to that .... Thank you, fan, for complements on both Fairy and myself – most of all, for your fandom and support. She is doing better today than she had been the past 3 days.

Oliver D. : Thank you for your reply. I'm glad to hear that and especially from you! I am glad that whoever 'Mr. X' is did have the decency to be impressed and care enough to be direct with our exotic stunning 'queen' - this day and age '70s Freddie Mercury. That story is just wild about you and whoever he is creating fake credentials to access her fan club site just to learn even more about her. I am so relieved to hear she's doing much better. I hope you two (and her 4 kitties) have a wonderful Christmas. What did you get Fairy, if it's any of us fans' business? :) She was so campy before she went dark on the fan club on Tuesday when she posted that she told you that you need to buy her kitties presents or else. Then she wrote - (copy/pasting from that post) 'hmmm what does one get for a man who literally has everything - a delectably charming multimillionaire? My tits! (wild laughter - I fucking love it!)'

From Pavlova - My only reply to you, fan, a man obsessed and in love will go to extents for their true love. Such as prince Albrecht in ballet of Giselle. He goes to peasant village in guise of peasant to woo peasant girl Giselle. Well then, Jorge ... I suppose it wasn't no coincidence you posted that 'emulation photo' of my femmka and the caption that's written on it on the homepage after your message ..…
(Note: photo Pavlova is referring to is now pictured above – Fairy's tits steal the show once again …
😄 'playful as a pussy cat' – from 'Killer Queen')

Jorge Schumann, PR to FM - LOL!! Is that your 'cryptic' attempt at replying to the last part of what Oliver
wrote - or should I say copy/pasted that Fairy had posted?
Hello dears. Now that Xmas is over … my favorite is New Years because I like to get my tits out and get drunk on some lovely Cristal champagne and be naughty. (Above: gif of me being such a drunken tart pouring champagne on my tits)

I just can't, dears! Jorge contacted us (myself and my prince) saying the fan Oliver D. wanted – pleaded to speak with Pavlova and it was urgent he did. I recognized the name and … purred … 'Rudy darling, that's that boy who won the autographed photo of me we did during Easter. Remember that?' I was laying on the sofa – recovering – this is what he said, 'then I speak with boy, you rest, baby.' I just buried my face in the cushions – I mean, I just can't!!! As for all of you and your reaction to the new photo of me that was posted on the homepage of my public site … You don't even want to know what his reaction to it was … I might write about it soon. I just wanted to quickly pop in and post my reply and let all of you, my concerned honies, know I'm much better. I hope all of you had a lovely Xmas. We'll get back into the swing of things once again very soon.
Love and kisses to you all, darlings. Fairy x
*** Below is the autographed concert photo of the breathtakingly stunning Persian glam rock queen™ Fairy Mercury being referenced to. Also added, the love of her life - the multimillionaire Russian ballet danseur. Light brown 'wispy' bob (as Fairy calls it) a bit disheveled yet still princely.
You've Come A Long Way ... Baby
People are fond of reflecting back whenever the New Year comes around. Recap of Fairy's tours. First ever she called a 'mini tour' - testing the water, so to speak. She titled it: 'Flight of the Fairy' which she toured selected venues in and around the London area. Late fall to early fall 2021 Enter the picture, her prince - her Nureyev
Russian ballet danseur rehearsing ballet on Haze Theatre stage. Right: concert photo of glam rock queen Fairy Mercury from her first ever 'mini tour'
The multimillionaire Russian ballet danseur / Nureyev emulator-lookalike catapulted Fairy's fame and changed her life. She went from having only 800,000+ fans with fan club membership to MILLIONS! Currently at 8 million. After embarking on a very successful 2022 tour of 22 dates. Major cities throughout the UK. All sold out! 'Flight of the Fairy ... Revisited' (inspired by Freddie Mercury written Queen song 'In The Lap Of The Gods ... Revisited'). During the tour, Killer Queen and her prince married in a 'romantic regal extravagant' (as she called it) wedding on the multimillionaire's Vienna estate. Thus, 'the FAIRY ... tale couple' fans have become obsessed with.
What the future holds. The famous 'glam rock queen' spreads her fairy wings and soars to Europe on her very first European tour beginning late March 2023, titled 'Fairy Soars'. We are so very proud of our 'this day and age 1970s decade Freddie Mercury incarnate'.
-- Jorge Schumann, PR for Fairy Mercury