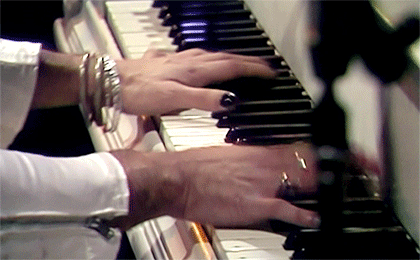 Fairy Mercury is a famous Freddie Mercury (of the 1970s) lookalike/incarnate.
"This day and age Freddie Mercury" claims his adoring fans
Featuring: Russian ballet danseur Rudolf Pavlova
'Guaranteed to blow your mind'
(from 'Killer Queen', written by Fairy's idol Freddie Mercury)
"Fairy Mercury - exotic, erotic and elegant is a sight to behold "
states one awestruck venue booking agent.
Enjoy this live performance of 'Killer Queen'. This is old! I have been told by Fairy's personal photographer Greg Hastings, the performance was one of the few shows Fairy was able to get in before the pandemic hit last year cancelling his shows he had scheduled back then. Interesting fact about the song 'Killer Queen' - the song Killer Queen was embraced by the queer community for it's campiness. More about the song was discussed by Fairy and his entourage in the post 'Mirror Image'
​
Post by: Johann Wagner / costume designer for the exotic prancer Fairy Mercury and Jorge Schumann / web designer for FairyMercury.com and fan club newly promoted to Public Relations. Fans, take time out to congratulate Mr. Schumann. He has done such an amazing job with public promotion on the pubic site as well as his web design.

Photos of Fairy Mercury provided by: none other than Mr. Greg Hastings / viVid Photo Studio, personal photographer and videographer to the divine lush creature.
… and so it begins
The (1970s decade) Freddie Mercury lookalike Fairy Mercury was most definitely 'a sight to behold' as he glided into Haze Theatre dressed in all black. Velvet black with rhinestones top with 'obscenely tight black trousers', as the exotic prancer himself would describe it. Lips erotically heavily glossed, dark exotic eyes eye lined. Black and white Freddie Mercury harlequin Nijinsky inspired leotards draped over his arm.

Gliding up to the lobby desk, he purrs, 'Hello, I'm here to see Mr. Nikolai (heavy emphasis on the name Nikolai. Obviously being done on purpose, remembering being told by one 'Dame Eleanor' in email, the 'Russian Prince' doesn't like to be called Nik). Erotically adding in sibilant purr, 'Pav- lo -va.'The male receptionist nervously says, 'Do you have an appointment? If not – it's no problem. I'm sure he'll see you.' quickly picking up the phone receiver. Not waiting, Fairy points his black varnished nail left hand index finger in the direction of the familiar 'main hall' where 'those photos' hung, purring, 'is it this way, dear? I'm sure I'll find it.' and glides off in the direction of the hall.
I am 'in place' to observe all this taking place in order to do this 'candid write up'. Down the hall, the glam rock queen is greeted by his costume designer Johann Wagner (all arranged for this surprise visit) who grins, 'like a Killer Queen' with a laugh and adds, 'I can't believe – no I CAN believe you are doing this because it's so you, Fairy!' Johann will pick up the 'account of' the divine lush creature's visit from here.
Our plan is for me to distract Dame Eleanor (Mr. Nikolai Pavlova's personal assistant) so Fairy can let himself into the Russian Prince's office unexpectedly. Catch him off guard and by surprise. Yet I still need to be able to observe what ensues. While Fairy stays out of sight, I approach the personal assistant's desk pretending someone in production has asked for assistance. After the personal assistant leaves, I summon the divine lush creature to make his move. He hugs my arm to him pulling me along with him into the office of Mr. Nikolai Pavlova who is at the mini bar pouring a drink. The bottle practically slips from his grasp as he stares mouth open as the exotic prancer does just that, prances towards the mini bar purring, 'Now, darling, I know you know Nureyev danced in the ballet classic The Nutcracker. There's a Russian dance and a Spanish dance. The Fandango is a Spanish dance. Was that the dance in that act? Could you show me how to do the dance of the Sugar Plum (pauses) Fairy. I came prepared.' Holding out the harlequin leotard.
​The Russian Prince's eyes quickly glance at the Persian queen's erotic glossed lips and Fairy continues purring, 'Oh come now, dear! You must have danced The Nutcracker when you emulated Nureyev.' You can see Mr. Nikolai Pavlova's face redden – blushing, as he turns away muttering something in Russian. Fairy's exotic dark eye lined eyes look at me puzzled with 'what did he say?' expression. I walk over to him and whisper, 'He said, 'forgive my rudeness – but -' then I say, 'Then he quit speaking.' The Russian Prince then heads over to his desk and picks up a pen saying, 'Were you informed of the email sent pertaining to further shows for you to perform for November into December, kitten?' I seriously wish he would quit calling Fairy that because it always makes him carry on as if he's about to faint. He finds it 'so fucking charming'. It is so campy and so him to react like that towards something like that though.
This photo (above) sits on Mr. Nikolai Pavlova's desk. The ever so elegant Fairy Mercury glides to the desk picking it up purring, 'Oh – how ... can I have this, dear?' I notice the look on the Russian's face. A jealous expression… Jealous at Greg (Hastings, Fairy's personal photographer) most likely, because what he says in reply, 'you must be fond of photography.' Then walks over to the windows of the office, looking out at the picturesque view, Russian accent saying, 'As you know – the (pauses) Nutcracker has the character The King Rat. Your idol – Freddie Mercury – as you also most certainly know – on Queen's first album, wrote a song 'The Great King Rat'. I often wondered if he got the idea for the song and title from The Nutcracker. He was an avid fan of ballet – of Baryshnikov, Nijinsky, and (clears his throat) Nureyev. As for the – Fandango …' unfinished, trailing, he turns from the window glancing at the harlequin leotard draped over the effeminate Persian queen's arm – face slightly blushing. (Too obvious the reason why is over what I will be writing next – what Fairy posted on his public website – the thought of possibly holding Fairy's lovely effeminate body to his muscular dancer body for another time ….)
​Nikolai Pavlova eyes me and says in Russian, 'Please go – take her with you. On your way out, talk with my assistant. It's important that you do, Johann.' Fairy tosses his long midnight black hair with a curious look purring, 'is something wrong, dear?' I tell him we have to go. I half expect the persistent queen to refuse, but he comes along with me. The personal assistant is back and stares surprised at us then says to me, 'Now you're here, Johann, there is something important Mr. Pavlova wanted me to ask you about.' avoiding looking at Fairy and picks up the laptop off the desk and points out this Fairy posted on his public site (I made a screenshot of it).
Then says in German, 'He read this and couldn't tell if she was offended or what. Why is she here?!'I reply back in German feeling rude since Fairy knows none of these languages, 'Believe me, Fairy was very VERY – aroused – by his touch and the feel of his body and arms – against – holding her body. She regrets not doing the Fandango as he held her that day – the day they met. The charming Nikolai is doing everything right.' Then I walked over to where Killer Queen was standing and walked off with him telling him what was said.
Fairy, your fans finding you so campy on the private site / fan club teasingly joking calling me 'the best selling romance novelist of all time'. I suppose I'll earn that tease even more after you read how this was all put down. The exotic prancer's adoring fans, do you think your star will post his account of his surprise 2nd visit to Haze Theatre?
​
+++++++++++++++++++++++++++++++++++++
From Fairy Mercury --- As I posted on the homepage, my precious fans, I do plan to post to this 'write up'. You forever know how to cheer up this queen, my darlings! I am going to include something emailed from 3 fans in Manchester which was forwarded onto me from my personal photographer that was beyond hilarious!!! +++++++++++++++++++++++++++++++++++++
The ever so elegant Fairy Mercury's adoring fans, he will be posting soon on the public site.
In the meanwhile enjoy these ....
Elliot, Ian and Reilly - both Johann and I thank you for the complements. Sorry to tell you this, but your double and triple check failed. Didn't you mean 'you know how authors' not 'who authors'. Nov. - Dec. shows (dates, locations, venues, etc.) details will be announced by mid-week ... Is Manchester on the itinerary?? .. Wait and see. Cheers! Greg Hastings | viVid Photo Studio, personal photographer to Fairy Mercury
Timestamp: 9am, London, England From Fairy Mercury --- Hello dears, I'm sorry it's taken me so long to post on this - the recent short story romance novel by that famous German novelist Johann Wagner. Seriously, my precious fans, I'm glad you found me calling my best friend and costume designer that so very campy. I have even more camp for you. I'm afraid the fan Keith has been dethroned. These 3 fans in Manchester, in spite of the fact their spelling was perfect, they made errors. Apparently I only wear one ballet slipper. I mean I laughed myself to tears, my darlings!!! They 'worship the grounds and stages your ballet slipper prances upon'. Literally picture me in fits of melodramatic theatrical laughter - it's a bit funnier than 'kocked'.
Now for more camp. I was sent another email yesterday from that 'Dame Eleanor' about my visit to Haze Theatre. They staff over 100 people. Apparently I make such a 'buzz' being such a famous star having been taken on being managed by the 'very respectable Mr. Nikolai Pavlova'. They all carry on over both visits and my websites (fan club and public site). Note to Johann and Greg - we don't even care people read us writing about them do we?
After all ... it's what I do - entertain ... Anyways, dears, this was attached to the email. My camp about it. Isn't that you, Jorge, in the background?!
Johann Wagner / costume designer for the ever so elegant Fairy Mercury: I am literally CRYING!!!!! The queen of camp!!! I'm just having to. That's Jorge playing up stupid putting on all business like persona.
+++ Fairy Mercury +++ The email was quite embarrassing. It said that .... he ... went down to the stage and sat instructing the production that was currently going on after my visit to Haze Theatre. 'Spirits very high. He told me his office smelled of you long after you had left and it was extremely arousing. Lingering like your unforgettable presence' (quoted from the email). How fucking charming .... I'm glad all of you, my precious fans, were entertained by my costume designers 'write up' of my 2nd visit to Haze Theatre. I just couldn't resist about The Nutcracker. I planned it all. Mmmm, I adore a man who is left speechless and blushing. When he looked at my ... glossed lips ... then turned away, I saw an erection in his trousers .... obviously why he couldn't finish what it was he started to say in Russian ... No, my dear "Mr. Nikolai Pavlova", IF you're reading this - I won't quit until I get that dance .... and I won't freeze up like I did the day we met...
Greg Hastings | viVid Photo Studio - Hate to interrupt Fairy. To the fans who brought this to Mr. Schumann's attention. Thanks for letting us know a photo was missing from this post! However that happened one can only guess. The craziness we have with this public site of the divine lush creature. Smh. I found the photo that was missing and put it back up. Talking of black and whites - here's one for you guys to enjoy.
+++ Fairy Mercury +++ Do you have it sorted, Greg? We can't have my precious fans upset. The poor dears are still so traumatized over that week long craziness of when we weren't able to edit my public site. But it's been all worked out now, my darlings. For the best. I love what Mr. Schumann did in his remake of my public site. It's more appealing compared to the thrown together with loads of amateur issues. I need to be off for a few hours, my dears, for dinner and such. Awww, I know - sad faces - but I will be back on soon to post more. I hope all of you are having a lovely weekend full of ... forbidden ... adventures, so far. I'm still waiting for the invite to the ballet .... xx Fairy
+++++++++++++++++++++++++++++++++++++
Greg Hastings | viVid Photo Studio - This is too funny and I can hardly wait until Fairy sees this. First off, let me tell you, his adoring fans, something just as funny. A conversation between the exotic prancer and his costume designer. Him telling Johann that he needs to make it known that I'm Johann's man because of the thing Johann said about thinking Nikolai Pavlova is jealous at me. Those 2 crack me up since you guys are so amused by the satin queen trying to seduce his 'crush' stories. With that said, it's obvious those people at Haze Theatre don't have Fairy's personal email. Yet why would they since it's 'business'.
I received an email through the photo studio email from his 'crush' who I'm obviously his adversary - foe (to speak Killer Queen's 'regal splendour' talk he so elegantly prefers). This is what it read (again, I can't wait until he sees this - I, of course, forwarded the email onto his personal email address) - 'Fairy, I hope it's all right to be informal. I don't think a 'glam rock queen' would go by formalities .... I don't think you would be interested in the Magic Flute the production the Royal Ballet is currently putting on. Perhaps in Dec. they will be doing The Nutcracker... Would you fancy a lovely intimate stroll through Hyde Park instead, kitten? In tune to Queen's 'Lazing On A Sunday Afternoon'(vaudeville number written by your idol Freddie Mercury). Let me know so I can have things arranged. I await your reply, Nikolai Pavlova ' This was the attachment that accompanied the email:
It is now after 9:30pm (crazy how fast today went). I wonder what Fairy has been up to the past several hours... So we'll see what comes of this. I need to get to work on those videos soon. I've put them off a bit too long.
Johann Wagner / costume designer for the ever so elegant Fairy Mercury: Omg, Greg!! You have got to be kidding me!! Now this is getting VERY interesting!! I can't believe he's reached out and made the move to offer to do something ... intimate ... with Fairy!!! I seriously can not wait until he gets the email! I'm sure Fairy will be phoning me carrying on over it.
Greg Hastings | viVid Photo Studio - Not to be acting like a smart ass, Johann, but he's probably doing it because he feels threatened if he doesn't, he'll lose his chance. Face it, the famous queen can have any man he ... desires .... (to use his erotic talk). He is so charmed by the Russian. I agree with those fans in Manchester, Haze Theatre was the best 'move' - decision he has made in his 'aspirations to be Freddie Mercury' - his career. Because as I posted on the public site a few weeks ago (long since deleted) it is more him than anything else. More him being incarnate of his idol and other reasons I'm not going to get into. I like the new creative 'spin' (as those fans put it) we decided on - the candid look and moving away from other things.
It focuses on him - the entertainer - the lookalike/incarnate of '70s Freddie Mercury (the main focus) and it also invites his adoring fans to a candid look at what he's really like / about. What we KEPT trying to get across about how he's so FM being 'effeminate queen'. Because what you took up doing - the visits to Haze Theatre bit, his fans would be captivated by it because they keep on about wanting candid 'behind the scenes' on their Freddie Mercury lookalike/emulator glam rock queen. It's a fresh new viewpoint coming from you, who is not only his costume designer, but best friend. Since you work for Haze Theatre, it made for an excellent introduction to them taking on managing him. I almost knew his fans would really like it ....
Johann Wagner / costume designer for the ever so elegant Fairy Mercury: I'm glad they like it, Greg. I just now texted Mr. Pavlova's personal assistant to ask what's going on. I bet it's because he's become so captivated by Fairy and was reading what little he's posted today. Sounding like he's pouting over still not having been asked to the ballet. I phoned him to ask if he's looked at the public site (what you posted) and/or gotten the email you forwarded to him. He didn't answer, so I left a message. He's probably sleeping ...
This is too funny, my precious fans. I went to post and my bloody keyboard wouldn't work so I ended up having to restart my computer. I suppose it's a good thing today is nearly over! HA!! I see things got rather interesting since I was away ... Johann darling, did you get a reply back to your text? I'd rather not reply to the email until you do ... Mmmm the offer is so enchanting! I almost knew my 2nd visit to Haze Theatre would be rather ... enticing ... As you know, dears, I am very obsessed with Hyde Park for reasons I've already admitted. I seriously don't think I'm ready to be completely alone with ... him ... just yet!!! Yes, there will be people in the park, but you know what I mean. No romance novelist Johann accompanying me or anything like that. Btw, it's funny all of you carrying on wondering what is that mysterious cryptic bit that was posted on the homepage of my public site. I have no idea!!!
Johann Wagner / costume designer for the ever so elegant Fairy Mercury: I'm glad (as I'm sure your adoring fans are) that you came on. I was beginning to worry about you! Yes I did get a reply back to my text. I can't imagine what your reply is going to be after you read it. I'm sure your fans can't wait to find out ... This was the series of texts in reply - 'She is all he can think about! When he sat instructing the production, everyone could see his preoccupation. He is a man in love!' 'When she left his office, I asked why she was there. He just simply repied, 'she wanted to dance' with the look of a man who, well you know, just enjoyed the most pleasurable sex ever.' 'Why are you surprised? It was inevitable, wasn't it? She's being a silly girl wanting the "mystery" to play out. Fanciful queen; romanticist, just like her idol Freddie Mercury'
+++ Fairy Mercury +++ I just can't, dear!!! Those texts are embarrassing ... I suppose it would be VERY lame to make sexual innuendos over wanting to 'dance' so I wont ... Oh yes! Literally and figure of speech I long to 'dance' after seeing that body!!! I have an idea, I'm going to reply to the email and ask if it would be alright if you came along. Just so you can play up more romance novelist to what becomes of it (picture me in melodramatic theatrical laughter, my darlings). Talking about things you can't get out of your mind ... what I keep having run through mine is the touch .... taking my hand in .... his ... and kissing the back of it (so fucking charming!!!) like a prince ... and then holding me in ... his ... arms to ... that ... body asking 'will you do the Fandango?' I mean, it was gentle yet possessive and full of lust - desire. It's why I froze and reacted like I did! HA! Now I'M sounding like a 'romance novelist'. But I am a romanticist is right - just like my beloved idol was. I love you, my precious fans!! I'm reading your comments you're leaving and as always, they are so very entertaining.
Johann Wagner / costume designer for the ever so elegant Fairy Mercury: Let me know what the reply to your email is. What are you going to write? Is what your adoring fans are carrying on wanting to know from their star. I'm not even going to reply to how campy and so you STILL doing your ongoing tease about romance novelist. I'm sure your fans would just love to find out what transpires in Hyde Park tomorrow ....
+++ Fairy Mercury +++ I'll actually share with my precious fans, who I appreciate their fandom so very much, the email reply I just now sent. I'll copy/paste it just for you, dears. As follows:
No formalities, huh? Then I suppose Nikolai is fine. I just loved your reference to 'Lazing On A Sunday Afternoon'. More Queen. Now let's see - you referenced 'Bohemian Rhapsody' when we very first met. Then 'Great King Rat' and now that one. How enthralling, dear! I would more than love to go for 'a lovely intimate stroll' as you put it through Hyde Park. Intimate, huh? Mmmm... what can I expect from that?! I'm intrigued! I loved the attached photo. Will you be coming looking like that?? Email back details - time and such. Would it be alright if Johann come along? Something I find so horribly romantic and enchanting is when a man will sign off 'Yours' - oh, that just does so many naughty things to this queen. I don't know why I shared that. I suppose it's in thinking of how to sign off this email to you. I have things on my idol signing off in these ways to his adoring fans - 'All the best' - 'Love and kisses to you all, darlings' - 'All my love and kisses, honies' - 'xx' ---- I'll just sign off with something he would say to his adoring fans at the end of Queen's concerts - Sweet dreams, Fairy (Btw, I love how its customary for the audience to call out 'bravo!' while applauding after each ballet act has ended and when the entire production comes to a close).
Until tomorrow ... love and kisses to you all, darlings. 💜 🌈 Fairy