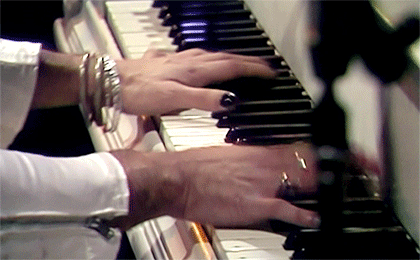 Fairy Mercury is a famous Freddie Mercury (of the 1970s) lookalike/incarnate.
"This day and age Freddie Mercury" claims his adoring fans
Featuring: Russian ballet danseur Rudolf Pavlova
Elegant defined: Lovely, refined gracefulness. Tasteful richness.
Grandeur defined: State of being grand, magnificent, splendid.
​
Below gif taken from concert footage of the first night of Fairy Mercury's
European 'Flight Of The Fairy' tour. Glam rock Killer Queen!
(Dresden Germany)
Hello dears. I've spent so much time on my fan club site the majority of the week, so I thought I would post to my public site for a change. It is 11pm here in Dresden, Germany. My second night show ended just an hour ago. As long time fans of mine know, I usually have a very wild and naughty after party to celebrate the first night. The second night, I use as quiet time for reflection. I am overwhelmed, darlings, with the tremendous support and reaction you, my German honies, gave both nights!! Aufrichtig danke!
​
My precious fans, just so you know, my PR man has enabled the country block app. I am so relieved and happy he found it and that hurtful hateful trash can no longer nose about my public website. Not fans - stalkers.
We're off to tomorrow!! Love and kisses to you all, darlings. xx Fairy
​
Jorge Schumann, PR for FM: As we stated, we were removing what was posted and we have kept all we wish to remain on Fairy's public site. GOOD RIDDANCE!!
​
To Killer Queen's adoring fans, her and Pavlova are very exhausted after tonight's show. They will be on either tomorrow or until the blocker app is put back into effect, protecting and blocking the public site from the shit show country.
Below: analytics showing where all Fairy's adoring fans reside. Europe and UK. The countries she wished to conquer in her quest for fame - other than Japan - Asia. Along with it, STILL holds true to date. The (now deceased) classic rock DJ outside of London (who tragically died in a car crash shortly after the pandemic occurred). Fairy and Pavlova ARE the ONLY interesting things out there and haters WILL soon realize that!
Greg Hastings | viVid Photo Studio: Jorge, nope sorry, Fairy and Pavlova just said they'll wait until you
re-block the shit show country to post anything to the public site about Fairy's Dresden shows. We'll continue posting on the fan club site until Monday. Hated that bad .... It will be a 'breathe easy sigh of relief' is right, just knowing freak show country can no longer intrude in Fairy's public site. It was well noted from the start of her career by former asshole manager and all of us that all the jealous hate, homophobia, mockery and copy/paste bs came from that freak show country. Btw, Darcy and Geoff, both Fairy and Pavlova have talked about what you two posted yesterday and today on the Loyal Subjects (ed. 4) page. If you two only knew what they had to say... Oops! Gotta go, being called away. Sorry!! (me teasingly leaving you 'hanging')
​
Jorge Schumann, PR for FM: I'm sure the jealous haters are going to go off and die over this. Fans, rejoice!!
I just now checked the analytics. Fairy is FAMOUS!! People are now actually visiting her public site searching 'FAIRY Mercury'. That was another thing, the jealous haters could never accept her fame and she's just as famous as the ugly dog bore shit shows out there (the #shitpeoplelike bores). Kind of like her selling out live shows and her venues become bigger and bigger she is being booked at. So fuck off, jealous haters! Go be stuck with spectacle boring negative nobodies and ugly dog so-called famous bores. Again, I repeat ....
Fairy and Pavlova ARE the ONLY interesting things out there and haters WILL soon realize that!
​
Philip Goldman, asst. photographer: Mr. Schumann, Killer Queen should change her tour to Fairy Soars.
We just realized a dumbfounded mistake, her first ever tour 'mini tour' as she called it. To test her fame, as in being able to play venues like a real rock star and not just clubs and the cabaret. That tour was named Flight Of The Fairy. We're going to have to confer with Pavlova if it's not too late to change the tour name. That's wonderful news what you just posted. Proof and truth... It would be even more befitting of 'Fairy Soars' for tour name.
​
Pavlova (Haze Theatre, ballet danseur) - Goldman, I am puzzled by what you say in post. Perhaps you had too much your drink of choice Scotch when you write. Who is calling my femmka's tour Flight Of The Fairy?
All concert merchandise being sold has Fairy Soars, her European tour name. Then the advert below. We keep what you write because my femmka, myself, Sir Thomas, my fine friend I refer to a 'Mr. X' and others ... are finding this very amusing. Perhaps camera lens is out of focus. We resume tomorrow as Jorge Schumann mentioned. Tomorrow when Fairy Tale Couple book is sold to fan club members and we head to Berlin.
I have news for the desirably lovely yet very unruly creature's adoring fans. Both Berlin shows for 24-25 March have sold out. As for fanzine page, Fairy and myself might pay visit to tomorrow. How you say? 'Long overdue'
Hello my precious darlings, some things are just too funny for words. Such as what was written above by my delectable princely Pavlova. The man (Phil Goldman) is very shy and we have no idea what he was even on about. So he hasn't offered an explanation. Talking about shy, whatever happened to those shy honies on the fanzine? Most likely waiting for myself and Pavlova to pay them a visit and we've been a bit to busy ...
So anyways, dears, we got to Berlin safely yesterday and finally I have found time to post something. I decided to post to my public site. Things have been very hectic.
First off, 'Mr. X', Pavlova and myself would like to thank all of you for purchasing the Fairytale Couple Book! Personally, I am so very overwhelmed over all this! My tour (so far) and the book sales. I guess I can never quite get used to my fame. I am forever humble to you, my precious fans, for your extreme interest in me and support. The books will be shipped out starting tomorrow, considering they just went on sale on the fan club yesterday. We were so blown ... (ahem, thinks to self: don't be naughty now, silly girl!) away the orders kept coming in and coming in from all of you. Then both my Berlin shows sold out and I cried tears of joy and am in such shock, and struggle for words to expression my gratitude. Will post more and longer soon.
Love and kisses to you all, darlings. Fairy xx
'I've taken my bows and my curtain calls
You brought me fame and fortune and everything that goes with it
I thank you all' - from Freddie Mercury written majestic Queen song 'We Are The Champions'
I feel so blessed. Thank you all! Fairy xx
​
________________________________________________
​
Pavlova, Haze Theatre ballet danseur: Below, new photo of self I had Goldman take backstage after dancing ballet during the exotic creature Fairy's 'Bohemian Rhapsody' performance (2nd night Dresden show). I anxiously wait for her to come on public site and see photo and her reaction to it.
Johann Wagner (costume designer for the ever so elegant Fairy Mercury) - It is after 3:30pm here in Berlin as I post this. Fairy woke at her usual, between noon and 1pm. For all of you fans carrying on wondering what her reaction will be over the photo Pavlova posted - had Philip Goldman take just for her. She's being extremely shy over it and towards him today. She left for rehearsals at two. She rehearses for about 2-3 hours.
It was too funny. After she got herself tarted up for the day - her glossed lips, eye lined eyes, her lovely long midnight black hair, etc. she joined Pavlova for tea. It was obvious the Russian prince and his valet (Ron Craster - also stage director for Haze Theatre and Fairy's live shows) were trying to find ways to get her to look at this page he posted the photo on. This is what they ended up doing. Ron Craster left his lap top open with this page on the screen. I watched as she eventually looked over at it and noticed the photo. Then obviously reading what was posted along with it. Her erotically glossed lips parted. A blush crossed her exotic peach complexion and she got up gliding off out of the room. I went after her. She was nervously gathering her things into her bag and I told her, 'Fairy, reply to him! Don't be shy of him. Besides, all your adoring fans are carrying on waiting for you to.' With a very melodramatic toss of her long midnight black hair, she purred, 'I have to get to rehearsals, dear. I haven't the time for boys playing sexual games.' in this ridiculous (almost campy) mock up snobbish tone. So, fans, give the lovely Killer Queen time, I'm sure she'll come around and post a reply ....
~~ Fairy Mercury ~~ It is just now after 6:30pm here in Berlin. In two more hours I grace the stage for the first time in Berlin. Are you ready to be fucked rocked hard by me, my German honies?! I am so very excited. I have loved my stay here in Dresden and Berlin (Germany) over the past 2 weeks. I will most definitely return for future concerts.
Somethings are just too funny for words ...
I will have to make this quick and I am sorry for lack of time, but I have been VERY busy. A LOT goes into all this, dears! Rehearsals, etc. I will try to be on over the weekend. Anyways, apparently Francis Boyd was enlisted to assist my PR man Jorge Schumann in helping promote my public website by submitting it to search engines, etc. Now he's getting contacted as if he's part of promotion. Francis in trying to assist, was using his gmail address to help. That Sir Thomas even approached Francis Boyd advising him that he, being the business man he is, should team with Jorge.
Now for the other ... 'Aristocrat' defined: a man of fashion, a member of nobility.
Ahem ... I received a phone call from that Sir Thomas ... literally telling me off! Imagine that, my darlings! Telling this queen off. This is what the man said, 'you must reply to Pavlova! What have you been doing since he posted that photo of himself just for you, mind you! Going to bed on unspoken terms with your back to him, you unruly prima creature?!' I laughed and ... purred, 'isn't that what us gays do? I am most certainly not going to face him if I want his enormous fucking cock in me.' I heard this loud gasp then I was hung up on (picture me in melodramatic theatrical laughter, dears!). Rude and what happened to that royal etiquette, Sir Thomas?? ... As for what became of that concerning how Mr. aristocrat ballet danseur has been behaving over me not posting or even in person ... a reply
to ... that ... photo ... I will post about when I have more time, my precious fans.
Love and kisses to you all, darlings. Fairy xx
​
Johann Wagner (costume designer for the ever so elegant Fairy Mercury) - Fairy, remember this uncomfortable embarrassing moment I shared with your adoring fans on the page A Little Silhouetto Of A Queen having to do with that Sir Thomas and ... 'tucking'? Obvious he's 'destined to be the lord of dance Nureyev' Pavlova sat that Sir Thomas up that time to have that conversation with you. It's too obvious he went to that Sir Thomas again insulted and upset that you are keeping him waiting about replying to the photo of him. Sweaty with bulging bicep ...
​
___________________________________________
​
~~ Fairy Mercury ~~ Hello dears. I am sorry I haven't been on. I don't need to keep explaining why. I am so knackered after my Friday and last night's shows!!! Once again, my German honies - aufrichtig danke!!
We have to leave Germany now - awww, I know sad faces, but as I said, I most definitely will be back!!
Myself and my entourage enjoyed sight seeing, my PR man and costume designer took time throughout to visit relatives they haven't seen for some time. As has been mentioned, Jorge Schumann originates from Dresden and Johann Wagner from Berlin. But most of all, I can't thank you enough, darlings, for your reactions and for your fandom!!
​
Because of Mr. aristocrat ballet danseur Pavlova's immense wealth, he has had his financier book us in very upscale hotels in both Dresden and Berlin. Like a man with wounded pride, he's been sulking . I heard him in another room on the phone to that Sir Thomas. Speaking in Russian and Johann was with me, so naturally, I had him translate. He was finding excuses 'she's an unruly creature with Bohemian way of life and I refuse to tame her, so if she will not behave proper as to what we know as proper, I give her time.' Too obviously talking about me refusing to reply to that photo ... This happened earlier yesterday. I decided after my concert last night, I would reply and intimately in person, not on here. My show over and back at the hotel, I waited until he had a few of his cherry brandy and I had several lovely glasses of champagne. Then I cuddled beside him on the sofa and hugged his buldging bicep arm
to my tits ... and purred ... 'Rudy darlings, I have no words to express about the photo you posted on my public site just for me, so I'll show you -' I lowered my long midnight black hair head to his lap, undid his trousers and gave his enormous fucking cock the most erotic blow job ....
He pet my hair quietly gasping something Russian. Usually he will immediately try to say whatever he said in English for me to understand, but this time he didn't. I'm bothered that I don't know what it was. I want to ask him but ... Anyways, when I finished ... I asked him if he was familiar with the talk 'nip slip'. He just gazed at me (still in ecstasy from the blow job...) shaking his light brown wispy bob 'no'. I purred, 'it's a stupid term people use when your nipple become exposed in something you're wearing. I had this photo of me taken to go with that photo you had taken of yourself for me. Erotic pose with my nipple exposed.' Photo pictured below, my dears, alongside the one of him.
He just took the photo without even looking at it and left the room!!! I went after him purring, 'Rudy darling, don't do this! Look at it and tell me what you think! What are you doing?! Trying to get even?!' He did this princely pirouette to turn towards me and this is what he said (verbatim how his broken Eng. Russian accent speaks), 'after description you gave, how can I bring myself to look right away, baby?' I mean, I just can't, dears!!! Of course,
I responded in my usual shy ... 'what did you just call me?' and took off. I could hear him quietly laughing over it.
This was very late. As I said, several hours after my concert last night. It is now after 6pm here in Berlin.
Earlier today, got the nerve to ask if he looked at the photo. This is what he said to me, 'it defines erotic and forbidden. I'm sure I don't need to tell you that it made me cum, femmka. I spent much time looking at it.'
So anyways, my precious fans, tomorrow we head off to France. The country ballet originates from, although
MANY ballet legends such as the lord of dance Rudolf Nureyev, Anna Pavlova, Nijinsky many others were Russian.
Love and kisses to you all, darlings. Fairy Mercury xx
​
Featured Fan Club Member Comment
(from fan in Italy) Top search in Italy is Freddie Mercury Nureyev. No lie!!
I came across it looking for suggestion for Fairy's PR man's SEO efforts to get her the audience she needs.
Hopefully it will become FAIRY Mercury Pavlova people will be searching. Our this day and age (1970s decade) Freddie Mercury and Nureyev. Please take your tour to Italy, Killer Queen!! I am so totally in love with your new
'nip slip' emulation photo. Too erotic!! And the photo of your prince is salacious af!!
​
Message From Pavlova (Haze Theatre, ballet danseur)
We have been very busy all week preparing for my femmka's (Fairy) concerts for Friday and Sat. (31 March - 1 April)
here in Paris France; also sight seeing. But Paris is a bit different because many 'important people' as my
femmka wishes to refer to them as - many ballet people of 'high society' I know, etc. are here and will be
attending her concerts to see her perform and me dance ballet during operatic break of Fairy's performance
of 'Bohemian Rhapsody'
Fairy and I will post more soon. Thank you for your fandom.
Jorge Schumann, PR for FM: Pavlova, remember how we go way back and it drives you mad that you don't know what I mean because how far back is 'way back' since you're only 38 (us below at Haze Theatre, you rehearsing your pirouette and I posted one of your fave gifs of your femmka next to it with her sweaty tits....)
[post edited]
It is 3:30 am here in Paris (Friday). Tonight I play to my precious fans In France for the first time (as I did for the first time in Germany). My 01 April show on Saturday has sold out along with Friday night's concert. I am so humbly thankful, my precious fans, and I love you all!! If you only knew the latest naughtiness ... but that's for a later time. Rudy and I will be working on a new music video when we return to England. We will be back in the UK for Easter.
Love and kisses to you all, darlings. Fairy xx
The Latest
It's been a hectic week in France for the glam rock queen Fairy Mercury and Russian ballet danseur Rudolf Pavlova
and especially a wild and crazy past two nights as the divine lush creature played her first ever shows in France to a sold out crowd. While in Europe, the 'FAIRY ... tale couple' are now off to Pavlova's estate in Vienna for a week long break before heading back to England for Easter. Much of Killer Queen's European tour has been covered on her member's only fan club site. Exclusive videos, photos for fan club member's only. Eventually they will post to the public site.