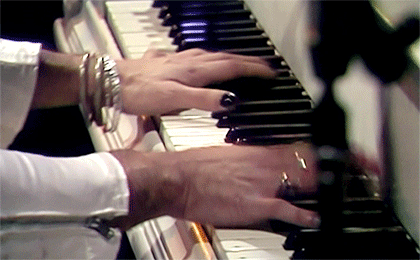 Fairy Mercury is a famous Freddie Mercury (of the 1970s) lookalike/incarnate.
"This day and age Freddie Mercury" claims his adoring fans
Featuring: Russian ballet danseur Rudolf Pavlova
​

Campy Queen and Ballet Bad Boy
More of the 'FAIRY ... tale couples' ' laughing gifs. They 'broke' Geoff Stafford's 'Loyal Subjects (vol. 2)' page.
As was explained to you, fans, oddly if a page becomes too long on this website builder/editor thing, you will get a strange lag in typing and a message that the page is slowing down your browser. So they weren't able to continue their too hilarious playful harassing of Geoff. Don't be surprised if they continue it on here continuing it ... Conversation as follows:
Fairy: Name to new page Rainbow's End from out of the song 'All Dead, All Dead'. My honies can't get enough of Rudy and I teasing Geoff about his rainbows and hearts.
Me (Jorge Schumann): So I've noticed. I don't know why we never had a page titled Campy Queen. Maybe the next after Rainbow's End? So what became of what Ron Craster posted since you guys weren't able to continue.
Fairy: Forever the charming prince. He came back in a clean one of his tailored suits and apologized for the
'rudely unattractive mishap'. I teased him, 'don't drink and read at the same time, Rudy darling.' then told him believe it or not, I've done that same thing before. He stood there gazing at me, caressing the back of my black nails left hand, then raised it to his lips and kissed it. So fucking romantic.
The exotic Persian queen Fairy with her dark liquid brown eye lined eyes and ... lip gloss ...
Right: Fairy Mercury's fan club president Geoff Stafford's early attempts at promo before the glam rock queen creatively made up the idea of 'online fanzine' for promo. Her creativity of having Geoff having the 'online fanzine' has managed to draw in over 1 million fans since its launch. Bringing the total of fan club membership to 3.5 million.
​
Note: As of Feb 2023 glam rock queen Fairy Mercury's member's only fan club has now 9.2 million members/fans.
Fan favourite video worth re-watching countless times. Fairy emulates to perfection her idol '70s decade Freddie Mercury's vocals time and time again.
Choreographed by ballet danseur and owner of Haze Theatre Rudolf Pavlova / Fairy Mercury's management.
The video feature footage of the glam rock queen during his Flight Of The Fairy tour and features Pavlova.
A venue operator at one venue Fairy has performed numerous times had this to say:
'The vocals and piano are eerily Freddie Mercury with a touch of Liza. Haunting and emotional. If there was such thing as surpassing perfection, Fairy has achieved that. The queen outdid himself with that performance and the way the video was choreographed completed it to perfection. The imagery was stunning! Pavlova makes me envious to admiration how he delivered to perfection the ballet moves such as the balance (arabesque) and pirouettes. If any man is deserving of the lovely superstar Fairy Mercury, undoubtedly it is Pavlova.'
Making of the video can be read on page: Exotic Prancer
Currently Fairy and Pavlova are working on a new music video to present to you, Killer Queen's adoring fans.
It will eventually appear on this page when it comes to light.
​
Fan Contest!
Killer Queen's adoring fans, we are running a contest! Get your creative selves ready. We are going to choose one lucky fan who can be the most creative to design a playbill for the November production of Russian ballet danseur Rudolf Pavlova's choreographed version on the legendary romantic ballet classic 'Giselle'. Where the exotic prancer Fairy Mercury will star as Giselle dancing opposite to Pavlova as Prince Albrecht. Highly anticipated event!! The playbill you design and submit must have that information on it along with stating 'Haze Theatre and Myaow Meeow Productions presents'. More entry details TBA on fan club site.
J. Schumann, PR to Fairy Mercury

**Note: any fan taken photos of Fairy and Pavlova, including artwork, becomes property of viVid Photo Studio and Pavlova Estate.
Details: Entries must be submitted before 4 Nov. The highly anticipated ballet will premiere 25-27 Nov. with many very important guests in attendance. The playbill will be selected by Haze Theatre's art director Alonso Lafar with final approval of both Pavlova and Fairy. It must be very professional and of 'high quality'. Because yes, the important guests will be among those receiving a copy of the playbill.
​
_____________________________________________
​
Satin Queen And Leather Lord In Conversation
The Plot ... Thickens ... and we know what the naughty glam rock queen will say to that - Pavlova's cock thickens ;)
Pavlova (Haze Theatre, ballet danseur): I wish to say something in reply to what my femmka wrote (Note: Pavlova is speaking in reference to soon to be deleted past post) Her feelings have been deeply hurt. We are not at the mercy of jealous fools (either sex) or homophobics. My fine friend 'Mr. X' was only making points as to Fairy's idol being effeminate queen. Freddie was treated very poorly and cruel by that damn clown act media. Homophobic crazies who are very despised. They would cruelly compare (never changes throughout years...) Freddie to straight asshole pricks. Which is offending. Because it is not only homophobic, but it's insulting and demeaning to be made believed about. As 'Mr. X' who actually knew Freddie and my idol Nureyev said, you would best describe Freddie as 'theatrical campy queen' SHE even went as far as telling that cruel asshole press in quotes you can read 'we're more Liza Minnelli than Led Shitlin' and 'I'm more Liza Minnelli than Prick Jagger'. Freddie's way of trying to get across not only being gay but a campy queen. I tell 'Mr. X' I think point has been more than made. We not stay stuck on it. Besides, Fairy being so identical to her idol, she gets across loud and clear - unmistakably so - to her adoring fans, she is campy effeminate queen.
Jorge Schumann, PR to FM: Our lordship, 'Mr. X' just replied to what you posted. 'Freddie Mercury was fond of 'vaudeville camp' as if fans never noticed that by many of the songs she would write. I am going to do she/her because that was what us who knew Freddie personally would talk. Besides, I know Pavlova prefers it with Fairy and Fairy herself does not like to be referred to as he/him. It is very homophobic and disrespectful otherwise. Fairy IS (1970s) Freddie and no one else. Of course, Pavlova is 'destined to be the lord of dance Nureyev'. His 'story' alone is captivating as was told to his exotic femmka Fairy on the Unruly Queen page. I could add to it. I know fans would be captivated by it. Royalty and millions ...'

~~~ Fairy Mercury ~~~ Thank you for your kind words and coming to my defense, Rudy darling and 'Mr. X'.
To you, 'Mr. X' who I appreciate so much in so many ways. From your support to your 'tips' on my aspirations to be my idol '70s decade Freddie Mercury.I especially loved the stories you told me about Freddie obsessively attending Nureyev's ballets and Sir Joseph Lockwood (Royal Ballet chairman and Queen's EMI record label) trying to get Freddie into ballet so she could meet her lifelong crush,the princely lord of dance Nureyev. You are the only one who cared to be kind and reach out to me, support my fame and being so impressed how incarnate I am of my beloved idol. I personally would like to hear what you could add because my oh-so delectable Russian prince/ballet danseur is still quite the mystery to me. Jorge, I would like the next new page on my public site to be titled Campy Queen and Ballet Bad Boy.
Pavlova (Haze Theatre, ballet danseur) - Jorge, she wants you to change it. I do as well. But make no changes to what has been already posted on page.
~~~ Fairy Mercury ~~~ You have got to be fucking kidding me!! I just can't right now, my darlings!! What 'Mr. X' told me!!! I've been on the phone with him the past 2 hours. Lord Snowdon who was a commoner and first non-aristocrat to marry into the royal family. Countess Margaret (president of the Royal Ballet) was Queen Elizabeth's youngest sister. I asked him about Pavlova's lineage (Anna Pavlova and Snowdon - 'Lord Snowdon' aka Antony Armstrong -Jones) He was vague. Instead, he told me Snowdon's favorite subject to photograph was Nureyev - very close naturally due to his wife was president of the Royal Ballet. It was in Vienna ... Snowdon did the exclusive coverage of Nureyev in 'Giselle' ..... . You know, dears, he (Pavlova) keeps mysteriously telling me, 'there are things you are not ready to hear, femmka' It scares me the thoughts I keep having. Especially the reaction towards Queen Elizabeth's death and the phone calls he got. Then the just as mysterious Sir Thomas .... Today is 'Tuesday tea' he faithfully takes with that man every Tuesday.

Pavlova (Haze Theatre, ballet danseur) - Melodramatic queen just like your beloved idol was said to be, femmka. Ah! The noose tightens. I could ask my fine friend 'Mr. X' to be discreet but since we are married, you need to know...Mysterious question for you, my unruly forbidden creature. How does one not related to someone look like identical twin? Unless, in your case, you've been blessed to be 'incarnate' - Dame Eleanor story in diary you literally fainted then had to be treated for shock .... (Funny How Love Is page) ... You're curious as the kitten feline you are.

~~~ Fairy Mercury ~~~ Rudy darling, I swear to god if it's what I've thought since that day you're talking of! That Dame Eleanor clearly was 'important'. Question that's been haunting me since that day, why would you be brought to your idol that day? Why would he care unless you were of some importance to him. Bastard child or surrogate child ....Most likely the second since Nureyev was gay and very NOT into cunts. Then what that Dame Eleanor wrote in that diary that he said mentioning my idol! I believe all of it. Because I doubt that old bird would make things up. And you don't give impressions of being a liar. Your extreme wealth for one thing ...
Conversation Hopefully To Be Continued - We are experiencing serious server issues ....
Man, we have got to quit watermarking your tits, Fairy. LOL!! - Greg Hasting | viVid Photo Studio
Greg Hastings | viVid Photo Studio: This is me appeasing Pavlova and what he posted to me the other day about my assistant photographer Philip Goldman. Photo of Fairy (below) taken by me because I cover the live shots. I hired Phil to cover the 'offstage' and 'candids'. Btw, we are still experiencing issues with the public site.... So I hope we can post to you, Fairy's adoring fans, on it soon and not just in the fan club. She has done away with the Loyal Subjects online fanzine and will explain why. It has taken me an entire freaking hour to post just this little bit because of the new annoying issue.
Cheers, Greg Hastings and forever thank you for being fans of the divine lush creature that is Fairy Mercury.
Defines exotic, erotic and elegant
Dashingly handsome with his medium light brown bob. Pavlova by Goldman...
~~~ Fairy Mercury ~~~ Too funny and it works every time, my darlings. What my brilliant personal photographer came up with awhile back. Unpublishing for several hours to reset. Now everything is in working order. Greg, you are a fucking genius having cum come up with that idea!! So if you ever see my public isn't online, dears, know that's what we're doing. As fan club members know, Pavlova and I are at his estate in Vienna. We arrived Wednesday. As Greg mentioned, before Pavlova and I left England, several of us (my courtiers entourage) met at Pavlova's office in the grand Haze Theatre to discuss a few business matters. We decided to do away with the online fanzine bit. I will not reveal why, dears. Him and I are impressed with John Price and we have asked him to join the others (my photographers, costume designer, PR man, etc.) in helping promote me on my public website.
I will be on here throughout the weekend. Love 💗 💋 and kisses to you all, darlings. Fairy x
Hello dears, following day (Sat. it is 11pm here in Vienna which is an hour ahead of England - for my courtiers entourage's information ...) and I am sick with flu!! It was so precious how my delectably (high pleasing) handsome prince literally sent for his personal physician to come after I had told him I didn't want him to see me like this and rejected him. I've been so very sleepy. I woke about a 1/2 hour ago and found him - his sexy muscular ballet danseur body laying pressed to the backside of me - arm across my midriff. I slowly slinked out of bed and this was too hilarious!! Talking about campy humour .... I was dressed in my Japanese silk kimono and it caught on something and came completely off me! He had hold of it trying to stop me from getting out of bed. I was completely naked - no satin knickers - and since he's all about 'tucking' .... I just kept going into the bathroom.
Me in my kimono and .... (Greg, I'm just having to keep the tease going) Pavlova by Goldman ....
I just can't what happened next!! I (ahem) went - Oh dear! You know, took a piss and I turned from the toilet and I saw his arm outstretched through the opened a few inches door, my kimono dangling from his hand. His broken English Russian accent saying, 'this do me no good - not without exotic creature who was in it. How you feel now, baby?' I mean, I fucking left out the other door that leads out into a hall!!! Now I am on my laptop composing this to you, my darlings. I'll come back on later to tell you what happens ..... Once I feel better, we will start working on a new music video. Monday, the winner of the playbill contest will be revealed.
Seriously, I want to include (from the videos section) me performing/emulating my idol's 'Somebody To Love' because the lyrics are so .... religious .... The video is so old. It was one of my personal photographer's first attempts at creating videos and he messed up not removing the video editor's credits section you can put in.
I would like to re-do it with footage from my Flight of the Fairy ... Revisited tour and would just love to see Pavlova dance ballet to it.
In partial until later continuation, after reading several of the comments you are leaving in the fan club comments section about what I posted, honies. Yes, I took out the loo still completely nude!! I am wrapped in a lovely comfy throw as I type all this at my laptop in the room I am now in. I just can't!! This is too hilarious!!! I got a text message from him just now saying: 'Come on, femmka! Where are you?! You know I can't possibly search entire estate. Too many rooms. ... Enormous ...' He obviously added the last word just because he knows it gets me going about his distracting enormous fucking cock!!
From John Price - I feel awkward and weird doing this. So okay. My first post. That gif the ever so elegant Persian queen posted (above) the video footage of her at the start where she turns away and kind of licks her glossed lips, I'm sure her husband the multimillionaire Russian ballet danseur probably really likes watching it... I hope Fairy gets better. I guess she's been very sick since they arrived in Vienna. I couldn't help be obsessed when she posted herself performing 'Somebody To Love' You know, this ....
I remember about a year ago, the 'divine lush creature's' fan club president started up that thing in the fan club asking fans to post in the comments amateur concert photos they took of the glam rock queen in concert and this was my contribution to that. Anyways, I woke this morning for real thinking I've been dreaming about being offered to be guitarist in her mock up Queen band! Like Geoff Stafford was being like. Feeling strange that you don't have to go to your boring ass job anymore because you have your dream job now. #surreal More so is me learning that both Fairy and Pavlova (our FAIRY ... Tale Couple) being 'impressed' with me. I asked Mr. Hastings exactly how because I have an idea it's not because of my guitar playing. I couldn't believe the reply! Greg told me because how I talked about them 'on a candid level. You know, what was written about you on the fanzine page.'
Referring to - I'll copy/paste it below:
I am going to have to delay my interview with John Price and he doesn't mind I'm putting him on the back burner for this. He was so nervous premiering during my exotic idol's sold out Bristol shows because the venue is of large capacity. As you guys saw he posted in the fan club comments thanking those of you in attendance for your warm welcome and, too funny, for not noticing the few mistakes he made. He told me he could barely hear Fairy's soft sibilant purr over you guys' wild frenzy a few times when she would encourage him, 'you're doing fine, dear.' He told me backstage, she would reassure him he'll do just fine and eventually relax once he 'gets the feel for it and the audience' He also told me she kept hugging her prince's arm to her tits. They were constantly in bodily contact and so in love and he kept saying things in her ear.
I kind of started to feel jealous (remember we were all teasing him in the fc comments about being jealous?) when he was telling me 'you should see her putting her makeup on. She's really elegant and makes this grand thing out of it. Especially the lip gloss. Obviously because she knows her prince is backstage watching. She does her own makeup but once in awhile she'll let her costume designer do her eyeliner and eye shadow, if she chooses to wear her (Queen II album cover/Hyde Park) black eye shadow or the pale blue eye shadow.'
She behaves so transfixed in love watching her prince do warm ups for his ballet bit during Bohemian Rhapsody. Yes, his dick is that 'enormous' and really pronounced in his leotards to see him up close and in person. 'Distracting' as Fairy so overly sexually puts it.'
Below gif (left) Fairy with her black eye shadow. Gif (right) Pavlova dancing ballet ...
I changed the candid photo of the FAIRY ... tale couple (taken by Phil Goldman...) to a different version they have in the photo file on here. One with Freddie Mercury quote because that quote is so Fairy. 'Exotic bitch' ... It's really scary to be in Pavlova's presence. I remember Phil Goldman (viVid Photo Studio asst. photog) trying to describe it on Killer Queen's public site twice. When he took that candid of Pavlova and Fairy and when he was asked to photograph and video tape their 'romantic, regal, extravagant' Vienna wedding. I wish I knew the pages it was on so I could link/reference them for you guys. I hope Fairy gets well soon.
Greg Hastings | viVid Photo Studio: LOL! So, John, you finally decided to post ... Killer Queen's adoring fans are already liking what you posted. You'll do just fine. Btw, that quote version w/photo of Fairy and Pavlova candid photo, yes, that quote of Fairy's idol is so her ... the effeminate queen adores men ... Screenshots (below) of the Russian prince 'stealing' his 'first kiss' ... so theatrically sums up Fairy in her prince's own words.
From John Price: Thanks, Killer Queen's adoring fans, for liking my first attempt at posting. Mr. Hastings, thank you as well for replying. You get so nervous over whether you're going to be accepted or not, like Geoff once said.
You can tell Pavlova is 'theatre' because he seems so poetic and so princely like romantic ballets and the 'method acting' they do while dancing ballet. This noble regal air of artistocrat he has about him. Proper. You can tell they are so extremely in love and it's like really enchanting. I am just in awe over how identical they are to their idols. Very sexual kind of can't be stressed enough about them. Their idols were often said that about too, I guess. Because it's something I noticed right off being in their presence, in person. Kind of like how Fairy constantly ... fondles ... Pavlova's cock ring she wears as a bracelet and you can tell when she does it, she's thinking of the sex they have and her prince's ... enormous ... cock. LOL! I'm copying the trailing dots thing you guys are so fond of - which Fairy was the one who created it. Being an avid fan of the exotic creature, I remember she does it as indication of alluding to naughty innuendos and such. #unique #mirrorimages
Pavlova (Haze Theatre, ballet danseur) - So glad to see boy has joined us ... Yes, my femmka is very ill with flu. Hopefully she gets better so we continue rehearsals for ballet. She is very devoted to fans. Even in sickness she made small attempt over weekend to post on public site. I tell what happened. She got out of bed and yes, it was very campy. I caught hold her kimono and she kept going, erotically letting it slip off her naked body. Very arousing. I got out of bed and held it through the part way open bathroom door saying what she posted. I hear toilet flush. She never comes out. I step in and see she has left out other door. Silly girl. Even sick. She tells fans of text I sent. I find exotic creature curled on sofa asleep and carry her to guest bedroom near room she was in.
~~~ Fairy Mercury ~~~ I am laughing so hard, darlings, even though it hurts to! I mean, John makes his first post and I just can't what he wrote: Kind of like how Fairy constantly ... fondles ... Pavlova's cock ring she wears as a bracelet and you can tell when she does it, she's thinking of the sex they have and her prince's ... enormous ... cock. My delectably handsome prince laughing, telling me, 'femmka that boy posted. Read what he writes.' his finger tracing over what I copy/pasted! Mmmm.... wouldn't you just like to know exactly what this naughty ...
exotic bitch ... is really thinking.
Pavlova (Haze Theatre, ballet danseur) - Boy will most likely go shy... but he - how you say? 'Knows his place' and isn't expected to reply. But I - Pavlova - would like to know what you're 'really thinking', baby.
~~~ Fairy Mercury ~~~ Oh my god, my darlings ... I am so tired! I think I'll go back to bed for awhile.
Johann Wagner, costume designer for the ever so elegant Fairy Mercury: Ahem ... Greg, those screenshots you posted, they are so Pavlova. It reads almost like a romance novel written by a charming prince adoring his effeminate 'queen' and being a man so very obsessed and in love. How he wrote about my best friend - the glam rock queen Fairy - in those excerpts, does perfectly capture her being with the man she is so very in love with.
Yes, John, they are both very overly sexual just like their idols Nureyev and ('70s) Freddie Mercury were said to be. Btw, Greg, it's embarrassing how that mirror photos of them thing, should have read 'ballet bad boy' not 'bay' boy.
I don't know if anyone has noticed the embarrassing error. I'm surprised Killer Queen's eagle eye fans hadn't. Please correct. And, John, yeah that FM bitch quote is so Fairy being identical to her beloved idol - why certain things/people are done away with .... cryptic response that I suspect you had the notion of .....
Greg Hastings | viVid Photo Studio: I'll correct it, Johann. Thanks for noticing it. Give me a few moments.
Talking about quotes and being so identical to beloved idol. This is so them being identical to their idols as well.
Pavlova (Haze Theatre, ballet danseur) - Well then. Apparently silly girl becomes shy and pretends she's tired just not to reply. I read in book 'the weird and uncommon' people are more drawn to than the 'dull and ordinary'. Straight people define 'dull and ordinary' and us homosexuals are a unique breed who define 'weird and uncommon', yes? My femmka adored this so much I say this about what I read, she hugs my arm to tits .... (spiteful just for costume designer....). I then tell her, there is 'silly' as in campy then there is 'silly' as in utterly ridiculous.
We made right decision to rid. Costume designer some what answered rest, for you fans with your curiosity as to why. Let there be no issues. 'Woman in man's body' part of quote of my idol was explained to me, photographer.
It was his way of referring to 'effeminate queen' - type of gay he was very attracted to.
~~~ Fairy Mercury ~~~ Oh believe me, Rudy darling, since you don't read the fan club comments, they are content with it. They know me, the star they are fans of, well enough to know how things go with me... They already prefer John since his debut at my Bristol gig. Jorge, you're slacking! You failed to change the header to this page. I've done it for you. See how it is, dears?! I am suppose to be the cosseted queen star around here and I have to do my own up keep of my website! HA!!!
'Lights go out and I die, tomorrow I will be born again, tomorrow I will dance again ' Nureyev

'I always get depressed and upset when a tour stops. Suddenly you're back home and you have to will yourself back into the pace. You have to make your own cup of tea again, and I'm used to being pampered and cosseted.' (Freddie Mercury, circa 1970s)
Johann Wagner, costume designer for the ever so elegant Fairy Mercury: Me being spiteful right back at you, Pavlova. Photo below and the caption we put on it ..... taken at your Haze Theatre ... Gif of you (below photo) what the serious hell are you even doing in this footage?! Fairy thought at first you were nude because your leotards make you look nude a lot of times. Such as the flesh coloured ones you are wearing in the gif I posted alongside
it does.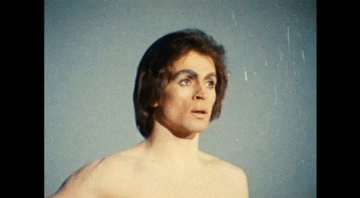 Pavlova (Haze Theatre, ballet danseur) - You speak like peasant!! We are back at getting in arguments over her tits now? I have no words for you, costume designer. I have you know, ballet in old days, it was 'obscene' for male in ballet. The danseur. Because of way leotards - how boy say? 'Yes, his dick is that 'enormous' and really pronounced in his leotards to see him up close and in person.' That is what I was told. How boy say, the way the leotard - your designer talk, 'form fits' the male privates. My femmka laughed over what I quoted boy saying about me. She really is such a lovely exotic creature. The necklace, alluring. It draws attention to her tits ... I long for her to reply to me about her thoughts - fondling ... my cock ring she wears as bracelet. Sex is like dance and both I do very well .... Arrogant, yes.
___________________________________
​
Hello dears. As you know from my delectably handsome prince Pavlova's message I have copy pasted below:
My femmka and I are now back in England and she is much better.As matter of fact, her adoring fans, she is so much better, I would not be surprisedif she comes on to tell of embarrassing moment we had ....
I am going to do just what he said but not right now because we are busy at the moment. Vienna being in Europe.
I love you, my European honies, the tease my be finally over because it is becoming closer to revealing details of my first ever European tour. Ahhhhh!!!! I'm so excited!
Above gif (left) I will never forget the moment! From our wedding in Vienna at his grand Vienna estate.
When he danced ballet for a small group of 'important people'. I mean, he can really 'fly'. He perfectly timed it when he went down on his knee, he was in my direction. So fucking romantic!!
I put a gif of myself alongside it doing my thing, darlings. HA!!
​
PLEASE Read The Following VERY Carefully, My Precious Fans
My precious darlings, I thought I would pop in before the weekend to post this. Again, another it won't be kept and I'm sure you'll know why. First off, I know all of you are fans of me and you get it ... but I would kind of like you to READ ... the things on the homepage of my public website, thoroughly and carefully, up to the section about 'recent updates' ... I would also like to for all of you to read what is written on the footer before the
'Credits' section ....
I spoke with my delectably handsome prince Rudy Pavlova concerning a few matters having to do with the stupidity over my public site. Yes, myself and several of my entourage (mainly my PR man and photographer) reads the comments you leave. We appreciate your comments. They inspire me as your star you are fans of and they give me an idea what myself as the entertainer you are fans of, what ... excites ... you and what falls flat.
As this 'very important' man having to do with my delectably handsome prince remarked: 'tell them to go get their attention elsewhere. I have never seen such ridiculous uncivilized behaviour in all my life!' Because I have 'important people' who look at my fan club and public site. They aren't coming for off topic spectacles or read about me being treated like shit when I'm married to the important multimillionaire 'destined to be the lord of dance Nureyev'.
You are not the only ones, my precious fans, who become furious over it.
Love and glossy kisses to you all, darlings. Fairy xx
Following conversation has been edited for relevance:
​
John Price: [edited] I could 'report' things. I am sure you know how Queen's fanzines were ran.
[edited] on the things I 'report' - behind the scenes stuff on Killer Queen and her multimillionaire ballet danseur, concert/performance stuff, things like that. Def. do what you said about other fans' comments.
I think it would work out.
~~~ Fairy Mercury ~~~ Aww isn't that precious? John, don't be so modest and accept 'guitarist' is what you are now for a very famous 'queen'. You can't just be writing John Price and expecting (newer) fans to know who that is. I like what John is laying out plans about.
Pavlova (Haze Theatre, ballet danseur) - Femmka, boy will go off shy now. You're right, it's hilarious.
Jorge Schumann, PR to FM: Yes, Pavlova, it is hilarious the shyness of the boy. Watch next time he posts, he'll have 'guitarist' written along with his name and I wish Fairy would tease him about it.
Pavlova (Haze Theatre, ballet danseur) - My femmka and I laughed when boy - how they say? - 'awkward moment' found it necessary to tell (rid of) fan to tell her adoring fans: 'Yes, his dick is that 'enormous' and really pronounced in his leotards to see him up close and in person.' about me. To read things like that, all you can do is laugh. My femmka purrs ... when we laughed over it, 'apparently, he thinks he's making a splash with the sexual angle.' Then I tease her, 'you draw attention to it with your sexual prowess.'
Like her 'cascading layered necklace' drawns attention to her tits.
Gif: Russian ballet danseur and Nureyev lookalike Pavlova and glam rock queen / 1970s Freddie Mercury lookalike doing their thing.
Fairy, me doing our ongoing tease.
Photo left: Killer Queen, 'satin queen' we really have to quit watermarking your tits ...
Photo right: Ballet bad boy 'lord of leather' Pavlova rehearsing ballet, by Goldman
Greg Hastings | viVid Photo Studio: Jorge, I totally agree with what you said here to Fairy - ...because of his age, having grown up in the '70s being an avid fan with loads of knowledge about your idol 1970s FM. Why do those 'recordings' when he could serve a purpose with his fandom (and knowledge) on Fairy's website He would be like an 'expert fan' version of 'Mr. X', if that makes sense. The only difference being, 'Mr. X' actually knew both Freddie and Nureyev (in the '70s). To the fan, thank you for agreeing because your fandom too obviously means everything to you. Touching. I always appreciated your being so taken by my photography and videos of Fairy.
Comment from adoring fan: Greg, you are Mick Rock! I guess your assistant photographer would be Snowdon (LOL). Don't even get me started on your photography because I would be 'hours on end feedback' Fairy keeps joking about. I love the photos and video of Fairy and Pavlova!!!! I for real save it all and can't quit watching and looking at them and I am being serious. I NEVER tire of any of it. They're both so very EXTREMELY attractive, unique and extremely interesting and I can't say that enough either. Who does any of it? NO ONE!!
Johann Wagner, costume designer for the ever so elegant Fairy Mercury: Greg, watermarking tits ... reminds me of censoring. Too funny. Btw, that frock was very hard to replicate for her.
Note: Poor John Price. Although conversation has been removed due to irrelevancy, he posted 'guitarist' after his name/post and Kill Queen notices and really teases (below).
~~~ Fairy Mercury ~~~ Oh my god! What a disaster! The modest one has decided to accept he is now guitarist for a famous 'queen'. In all serious, John, I would like for you to resume the online fanzine, teaming with viVid Photo Studio asst. photographer Philip Goldman. My royal adviser mentor 'Mr. X' has offered to be 'featured guest'. Who's ready to see this exotic bitch 'prancing and pooving' (Freddie talk) with her delectably (highly pleasing) sexy af Russian ballet danseur/prince in my theatrical debut? Deliberately backing into him and rubbing my ass against his distracting enormous fucking cock.
Photo left: Fairy in white leotard reaching out to front row adoring fans
Pavlova (Haze Theatre, ballet danseur) - Campy silly girl and your strike throughs .... Fans, I tell her - how you say? 'A lot is riding on' this, she can't be unruly creature as if performing rock concert. Theatre is different stage and many very important people will be in attendance. How she reply? Purring, 'mmm, I know what I want to be riding on, Rudy darling.' She never finished telling of embarrassing moment, talking of (ahem) 'riding on...' and important people.
~~~ Fairy Mercury ~~~ To my European honies, it is 6:30pm here in England. Dinner is served at the Pavlova estate at precisely 7pm. I will be on after dinner to finish telling of the embarrassing moment the handsome prince brought up. All right, my darlings, I am back.
______________________________________________
​
~~~ Fairy Mercury ~~~ Hello dears. Apparently all of us - myself, my dashing prince and entourage were abducted by aliens yesterday and couldn't post to my public site or fan club site. I am going to have my costume designer video tape me being campy queen shoveling snow in my fur and believe me, if Rudy Pavlova were to see me doing something like that, he wouldn't be pleased about it one bit.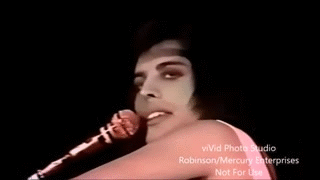 As many of you, my darlings, have already seen, we have brought you much 'coverage' on the fan club about this coming weekend's choreographed version of the ballet Giselle. I won't lie, I am extremely nervous!! I have been taken out of my element and put in an unfamiliar one - Pavlova's world of 'upper class royalty' of the prestigious ballet. I'll quickly talk about the embarrassing moment because I don't have time to be lengthy with it because we will be VERY busy with last minute preparations for the ballet. My sexy af prince and I were - you know, having sex on a sectional sofa in one of the many room of his Cambridge estate. I was gaspily purring like an aroused tart,
'it's so hard! Fuck me harder, Rudy!!' I then heard what sounded like a man's voice being cleared. I was started as
I opened my eyes and that Sir Thomas was seated there in a chair. I flew up off the sofa and of my prince's enormous hard fucking cock.
I hear him gasp something in Russian as I was quickly gathering my clothes and that Sir Thomas cleared his throat again saying, 'apparently you had forgotten I was to come calling at this time, Rudolf. I have not come unannounced.' Then my delectably handsome prince (sexy out of breath) gasping in his broken English Russian accent, 'How long?! How long you've been here like this?!' pulling on his trousers and shirt. Oh my god! I mean, this was sooooooo fucking sexy, darling!!! Now out side the room, I stood holding my clothes to my naked body having a nose. That Sir Thomas saying in stern tone, 'you care to put finely tailored clothes on your sweaty body.' And he replied, 'I sweat when I dance and have sex - 'finely tailored clothes' as you say can be replaced easily.' Disappointingly, his valet came and looking embarrassing over me being naked, quietly told me he was 'instructed to' close the doors and closed the double doors to the room.
So I wasn't able to continue having a nose in the conversation.
_______________________________________________
​
Message From Fairy:
My precious fans, who have fan club membership, thank you once again for your comments on the videos and photos and other content we've posted in the fan club - exclusively for fan club members only, about this weekend's ballet. I am so thankful to have such devoted fans who take such a serious interest in me.
​Have I ever shared this photo of myself with you, my darlings?
Note: Although things have been made amends about Geoff Stafford, you have to admit, when Killer Queen turns right bitch, it's campy - yet watch out for those claws!!
Pavlova (Haze Theatre, ballet danseur): You have shared it with them, femmka. It was pictured with the photo of me I had done just for you that Goldman took. Me emulating favorite photo/pose of my idol Nureyev. I have joke about that, as you put it: 'copy/paste wannabe we rid of' clown. I sent them back to peasant life after you bitchily had them fired. They are probably out on streets with their clown act, as British say 'on the dole' begging passerby to put money in their tin decorated with hearts and rainbows.
~~~ Fairy Mercury ~~~ Where's our laughing gifs, dear?! That is hilarious!!! It made my night and this rest of this exotic bitch's life for that matter!!! Come put your enormous cock in me, Rudy darling. I get so aroused when you talk with Jorge about my tits and glossed lips for all my adoring fans to read ... I know you don't read the comments, but my honies actually had this whole long thing going wondering if that fool still looks at my website and fan club site, what they're doing now, etc. Of course, the clown predictably disappeared from any activity in the fan club comments along with their equally clownish wannabe of you partner. Are you going to reply to what I wrote about the embarrassing moment, Rudy darling?
Pavlova (Haze Theatre, ballet danseur): Remember, kitten, you asked ... I was about to cum ... you hurt me doing that ... Curious as the unruly feline you are 'having a nose' as you say. I asked him again how long he had been sitting there - watching. I feel it was awhile! He says, 'you really enjoy that exotic creature, don't you?' My reply, which I am sure you will like, femmka. I say, 'as much as I am sure Nureyev did Freddie from things I've been told.' I tell him, I am sure upper class has had much to say that I change ballet Giselle by having an effeminate queen dancing lead ballerina part (as Giselle). He paid me highest complement, femmka. I was taken back, actually by reply. He said, Nureyev changed ballet by making the male in ballet (danseur) the center - doing away ballerina was the main role. I am destined to be the lord of dance Nureyev so it is my destiny to change ballet as he did - but what I have done is made it gay orientated. I should have posted all that in fan club to go with what we've presented your adoring fans with, but I post it here in reply to you and embarrassing moment was posted on here. I'm glad you thought what I say about fired fool funny. We make ongoing jokes about it, no?
~~~ Fairy Mercury ~~~ You being so 'ballet bad boy' what you told me he said and, of course, Nureyev ... I mean it, dear, I laughed so hard and still am over what you said about that clownish wannabe! Yes, and I don't care I am being a right bitch, ongoing jokes it is! Mmm... I have no idea what you said in your Russian when I ... unmounted ... you, but I had the feeling I hurt your hard enormous cock you. I'm sorry. Kiss glossy kissies all better. Ha!!
That gif of me you posted with the delectably princely gif of you - Greg did such an up close shot of my drenched in gloss lips ... rather erotic, don't you think , Rudy darling?
John Price, guitarist for Killer Queen: Sorry for butting in on your conversation, FAIRY ... tale couple, but I'd like to join the ongoing jokes. Can't wait to take over the Loyal Subjects fanzine. If that wannabe joke is still looking at your sites, Fairy, I can almost imagine how upset they are they've been replaced. LOL!! No wait ..... 😄 💗😅 🌈
Pavlova (Haze Theatre, ballet danseur): Boy, only tears I accept from my femmka are tears of laughter and joy. She is very lovely, is she not, in her extreme likeness to her idol '70s decade Freddie Mercury? She is crying laughing over what you post. What you want, name it, it's yours. Cars, boats, houses.
John Price, guitarist for Killer Queen: I'm glad she found it that funny. Actually, I got what I want. Playing guitar in her mock up Queen band. Thank you for the offer. But I just can't. I hope it doesn't offend you I turn it down.
_______________________________________
​
Fairy's adoring fans, John Price here checking in on the public site. After all the excitement on the fan club site throughout the week leading up to today, the opening night fo Killer Queen dancing ballet as 'Giselle' opposite to the Russian ballet danseur Rudolph Pavlova. The moment is tense!! Fairy is very nervous and we have been extremely busy.
​
To one fan, you are wrong the thing you're implying about Fairy. She could care less about 'non-fans stalkers' prying in her public site. PLEASE drop it - the boring negativity, all right? They've just been really extremely busy with the ballet.
Forever thank you, fans, for your undying support and fandom of 'the FAIRY ... tale couple'.
John Price, guitarist for 'the divine lush creature'
Johann Wagner, costume designer for the ever so elegant Fairy Mercury: I am backstage at the grand Haze Theatre. Things are just what John Price said - hectic! The ballet begins in 2 hours. It has just now turned 7pm here in London as I post this. I want to quickly reply this. Ballet isn't something easily learned. The past month, Pavlova has been diligently trying to teach Fairy the 'ballet basics'. To explain the 'lack thereof ' of the public site being active. She had to really concentrate and devote her time trying to learn ballet and dancing the role - including the method acting involved in ballet. She will be dancing among professionals of Haze Theatre. The main being the lead - the ballet danseur - that is Pavlova - the one destined to be the lord of dance Nureyev, who has been dancing ballet since age 9 - the same age Rudolf Nureyev began dancing ballet. MANY important people from Vienna, France, Russia will be here to watch Pavlova's choreographed version of the legendary classic ballet of
'love found, love lost' - Giselle.
Since Francis Boyd and his partner Raymond Giraud have been here in England for the past 2 weeks and will leave next week, Pavlova was asked about Mr. Boyd. This was his reply, 'well then, apparently Francis Boyd will be back by popular demand. I will meet with him Monday to discuss.' Most likely, he will be taking over duties as Fairy's 'online personal assistant' and will also, once again, take part in promoting Fairy on her public website with the rest of us. In the fan club, myself and Killer Queen's PR man Jorge Schumann will be bringing you, her adoring fans, highlights and exclusives of tonight's opening night of the ballet. We guarantee the public site will become active once again very soon.
Glam rock queen™ Fairy Mercury applying her black nail varnish
Below: The divine lush creature's dashing Russian prince Rudolf Pavlova
Hello dears. I have decided to post to both sites. It is 12:30 midnight here in London. The ballet ended 1 1/2 hours ago and I FINALLY was able to slink off somewhere quiet and private to quickly post. It was so very grand and magnificent and a success!! I am STILL 'floating around in ecstasy' (from Queen's 'Don't Stop Me Now').
And talking of ... that ... mmm..... that's what this naughty queen is now off to do with my well fucking endowed prince to celebrate. More soon! Lo💗e and 💋 kisses to you all, darlings, Fairy