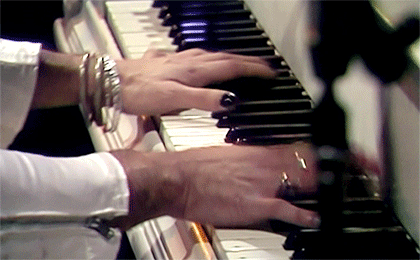 Fairy Mercury is a famous Freddie Mercury (of the 1970s) lookalike/incarnate.
"This day and age Freddie Mercury" claims his adoring fans
Featuring: Russian ballet danseur Rudolf Pavlova
You Brought Me Fame And Fortune
This is going to be big and I mean really BIG! Fans who were lucky enough to get tickets for the opening night (Friday 19 March) show should be envied. For the first time ever, Haze Theatre welcomes it's first rock concert act with the ever so elegant glam rock superstar Fairy Mercury. A night to remember and the anticipation is high!

The Persian glam rock queen Fairy Mercury's adoring fans, the post up for revision and most suitably so 'You Brought Me Fame And Fortune'. It will begin tonight (around Killer Queen's 'Zzz time') where 'she' will recall today's exciting events joined by Russian ballet danseur Rudolf Pavlova... The only thing the exotic prancer posted today on the fan club which literally sent fans into 'hyperventilating hysterics' - 'Oh my god, my dears! I just realized 2 more days and I will grace the stage for the opening night of my Flight Of The Fairy ... Revisited tour and I'll be an engaged queen to my delectably charming prince!'

From Greg Hastings | viVid Photo Studio: I want to comment on what Mr. Jorge Schumann posted so you fans wont be confused when we start the revisions. There will be sections of the pages that we will be keeping. Relevant focused on Fairy sections. They will have a 'header' that reads 'Revisited' Between two divider lines.When you see this, that will be an indication of the kept section. I hope this makes sense. What is currently being posted will then continue after the 'Revisited' section. If you guys want me to make sample screenshot I will because I can't explain it any clearer. It's a unique idea myself and Fairy's PR man/web designer Jorge Schumann came up with. If you guys want a sample screenshot, request it in the fan club comments section.
From Pavlova, Haze Theatre/pro ballet danseur - Revisited defined above. The idea is unique. The tour name that only someone as very creative as the 'glam rock queen' Fairy Mercury would come up with. In explaining the concept of what the photographer Greg Hastings is trying to convey, the 'revised' posts will coincide with 'revisited'. Such as revisiting the 'Flight Of The Fairy' shows along with past events. 'You Brought Me Fame And Fortune' will intertwine current with past. We will start with a brief remembering of a fan I had been told about. 'Ultimate fan' Jason Long as he was known as by other fans. The fan sadly ended his life late last summer. The 'revisited' section touches on him being so kind to purchase the domain fairymercury.com for your exotic star. What is most important is the future. Note to Jorge: I trust the site will work smoothly tonight. I don't want her upset!
Hello dears. I hope you like the new concept my personal photographer and PR man/web designer came up with about our revising and 'recycling' the old pages. AHHHHHH!!!! (nervously shrieks) tomorrow I become engaged and my tour kicks off!!! I am going to copy/paste what I posted on the homepage since that section will eventually be deleted and I want it to stay permanently on my site. As follows:
I can not wait until I grace the stage of Haze Theatre and perform for those who will be there Friday and Saturday. Are you ready to be rocked?! It would be a lie if I said I'm not nervous. It will be the largest crowd I've performed before and there will be important people in attendance in the VIP and box seats ...
Now about yesterday. It takes a queen to explain what my courtiers entourage were trying to about the new concept. Anyone familiar with theatre knows about 'intermission'. It was derived from that. I will start what I am going to post about then it will break into the 'revisited' section. The section of the page we're 'revising' (current being You Brought Me Fame And Fortune) that we decided to keep. Following after it, will be the continuation of what I'll be posting. Kind of like a flashback past to present.
::: For the record, there will be photos with people edited out in them for privacy purposes.
My idea of being overly dressed below. I wasn't going to have that old bird giving my exposed tits and midriff snobbish looks. The thing she said to Pavlova when they came for tea that day he wrote about: 'that - decadent creature - how it wears itself. Those sinfully revealing clothes' too hilarious, my dears!!!
The old couple arrived for tea and they obviously were surprised to see that I was there. Pavlova introduced me to them and we sat for tea. While he engaged in a rather boring conversation with the man – the man doing most of the talking. I noticed that old bird kept glancing at me. Almost as if it was proper etiquette that her husband engage in conversation with my man and she is suppose to engage in conversation with me (the effeminate…). It was so awkward, my darlings! I was relieved when his personal assistant interrupted telling the delectably handsome 'Russian prince' he had an important phone call and was sorry to interrupt tea but the caller was insistent.

That was when the old bird decided to speak to me. This is what she said, 'You are (pauses) overly sexual and as it's called campy – as the one you worship and aspire to be Freddie Mercury was. Pavlova is identical to Nureyev who he is destined to be. Rudolf Nureyev was known for being nonchalant and curt. Under Pavlova's charm lies the same demeanor. Will you be able to handle the fiery temper he possesses, just as Nureyev had? The temper will never (heavy emphasis on the word) be at or towards you, mind you. You will be the only one capable of calming him. Because you are (pauses) pleasing to him in every way. You -' falls silent as Pavlova returns.He has this beautiful ornate jewelry box with him. He tells the old couple, 'I have something I would like to gift Fairy in your presence.' The old bird in snobbish curious tone, 'Oh?' and the old geezer reaches over patting he back of the old bird's hand as if reassuring her it's all right. I mean, what a laugh! Oh the drama!!! Speaking of drama, this queen was being a bit melodramatic.My heart was racing at this point because I didn't know what to expect and it was too obvious what Ron Craster cryptically told me I would be 'overwhelmed' about.
He so princely took my left hand with black nails having me stand. Did the kissing the back of it which I will NEVER get used to. How he pauses and I can feel his breath on it smelling the scent of it before he kisses it. His Russian accent then says gazing into my makeup-less liquid brown eyes (I deliberately came for tea not tarted up. No make up – gloss, eyeliner - nothing and overly dressed).

He takes hold his custom made cock ring I've been wearing as a bracelet, 'This is unlady like and shall take it from you (he pauses obviously seeing the look on my face and mouths 'play along' with this fucking sly gorgeous wink) The old bird under her breathe says to the old geezer (gossipy behavior), 'what is it?' and the old geezer quietly says reaching over patting the back of the old bird's hand again, 'It's nothing, Martha. Something a man uses. You need not be concerned with details. It wouldn't be proper.' Both Pavlova and I exchange suppressed laughter looks listening to the hushed conversation.
I let him slip the cock ring from my wrist longing for it back (although I long for his enormous fucking cock far more, dears!!) He replaces it with this breathtaking bracelet, Russian accent telling me, 'I know it's not of your idol Freddie Mercury. I tried to bid and win the Bonham's auction back in 2012 when his ballet slippers worn during the Hyde Park concert was auctioned off. If only I had. So please accept this. Passed down to me. A bracelet owned and worn by Anna Pavlova.'I found myself gasping, 'I can't, darling, I can't!' I fled from the room (me fleeing pictured below). I heard him call for me and obviously went after me. It's easy to hide in such a sprawling mansion as his. I heard him pass where I hid saying, 'femmka, please!'
(Now, my precious fans, this is the 'intermission' - the revisited section my photographer tried to explain. Following after it will be the continuation of my 'post')
​
**Note from Jorge Schumann (PR to FM) - in explaining the 'Revisited' sections on several pages on Fairy's site.
They were old pages, before she met Russian ballet danseur Rudolf Pavlova, that she wanted saved but redone and edited. They were of a time when her career was just starting and she was 'testing the waters' going on a 'mini tour' of cities in and around the London. What she named 'Flight of the Fairy'. Her fame soared upon meeting her Nureyev (Pavlova). She embarked on the highly successful 'Flight of the Fairy ... Revisited' tour, in which she toured 22 tour dates in major cities throughout England.
​
::: REVISITED :::
​
Greg Hastings | viVid Photo Studio - Fairy wants added to the post that (him behaving like 'silly girl') thing he posted on that joke of a Blogger account. When he talked about his costume designer jokingly pointing out to him that section on the 'Flick Of The Wrist' post and what you posted in reply to it when he being (drunk...) campy queen posted 'caption this'. Photo of him under the 'fucking gif' which wasn't done 'intentionally'. Too hilarious! This is almost laughable, fans. You guys watched how we struggled putting this website together. I myself went through painstaking task of trying to duplicate all of the 'blocks' as they call it. We were calling it sections. Anyways, just now I found where you can actually save the entire fucking layout by duplicating it to use for other pages. Oh well, as we said - we had to familiarize ourselves with it and I guess I'm still finding new things about their website builder features. 2 things we don't care for so far is that you can't use spell check and they don't have strikethrough. Other than that, it's awesome af. Fairy REALLY likes his new site.So here it is, just to please the ever so elegant exotic prancer - what he wanted added to this post. I edited half of the posts.
So for Killer Queen's sake ... enjoy. Greg Hastings
Below Taken From Old Post / Conversation
From fan Jason Long - My queenly idol, it's after 8pm (in London). I know you're gracing the stage before your adoring fans right now. I'm wishing you luck a little too late 😃 I hope you don't get upset when you read this. Someone messed up your website!!! The profile page is gone! Oddly it has both the Soars and Continues posts combined on it. How that happened is beyond me! This is so frustrating!! Wishing I was there in London watching you perform. Easy fix. I'm almost done. Don't want to ruin your night 😌😊 I'll probably have to change the link but no big deal. You know something, Killer Queen's fans. I seriously hate it as much as you do and of course him and his entourage are so upset and enraged over the whole Blogger crap. Yet, I think it was for the best because the new website is more his level of 'grand classiness' 😊😃 I worship Fairy. Like you guys keep putting it - worship the ground and stages his ballet slippers prance upon. Fairy is the ultimate queen. #obsessed

Fairy is sooooooooo unrealistically beautiful - exotic - sensually seductive like his beloved idol. Working on his new website, I am in such awe over how identical he is to '70s FM. It's surreal and scary. He is so talented. I love how he sings and plays piano and looks so much like his idol and even talks and behaves like him. Jealous haters can't be impressed because they're too busy fading away from their vomitty jealousy. 😅😆😂
+++ Fairy Mercury +++ My show ended nearly 2 hours ago. As you know, it is after 11pm here in London. Awww that's precious you quickly resolving the issue with my new site's profile page. I'm sure all of you anxious darlings are wondering when I am going to make my first post on my new new website. HA!Alright so my dears, I've been told that all that's left is to transfer the Funny How Love Is post. Isn't that just grand? How can I ever thank you? It's just speechless to have fans like all of you, my darlings.

From fan Jason Long - I was so glad I was able to fix the issue with your new website's profile. It only took me not even 15 minutes. I just had to delete the issue and re-embed the code off that Blogger account. You probably saw the hilarity of your fans in the comments telling me to hurry up before you got off stage 😁 I'm glad you liked what I posted. I meant it. My fandom of you being identical to your idol is everything to me. #obsessed
+++ Fairy Mercury +++ I warned you I'm drunk, my dears! The most embarrassing and unintentional mistake (I corrected it) - I wrote I love his so much - instead of I love him so much. Yet ... I shouldn't have corrected it - I do love his ...... Another not intentional and I'm embarrassed over it. My costume designer teasing me about. The photo in the 'Flick Of The Wrist' post. To save you the trouble of going to look it up - but I sort of wish all of you would because it's funny with the moving gif. I'll make a screenshot of what I'm talking about. Hold on. Probably way worse than Johann's teasing and joking. I might have it rearranged. I sort of wish I saved what I'm talking about for something in my first post on my new website. I mean, you will laugh so fucking hard, my precious fans. Writing and all ...
From fan Jason Long - No lie - I just can't even. I am literally crying!!! 😅😂😭
+++ Fairy Mercury +++ Oh believe me, dear, it is more awkwardly embarrassing to see it on the post with the moving gif. For one thing, it's not only awkward .... positioning .... the gif and photo one after another but the endless jokes you can get over the seriousness of 'effeminate queen closes down Pride Month' bit. That was when I announced I was 'embarking' on my Flight Of The Fairy shows. The last weekend in June.
From fan Jason Long - Too funny. It really is. So campy and so you to notice it. Especially what you said about it wasn't even intentionally posted for what you're making it out of 😊

Greg Hastings | viVid Photo Studio - That is too hilarious. Like you said, wasn't even done intentionally. Jason, you're wrong about what's left. I still need to finish the videos page. A lot of the videos aren't in the newer posts. I'm just amazed how he stepped up and had such empathy by not only purchasing the web builder but practically put together the entire site for you. He def. defines what he calls himself - your 'ultimate fan'.
From fan Jason Long - Mr. Hastings, if you read what I posted on here today while he was on stage. That's like my fandom for him. I'm not a self centered person for one thing. I felt bad because I know how much his career and fans mean to him. Because that is embarrassing him being in middle of entertaining his fans then he has to quit and have 'the moment ruined' all because of some idiot NO costumer service shit site with an ongoing issue they want to play up avoidance and stupid over. Clear your cache!! WHATEVER!! It's free - so you get just that - cheap shit.
+++ Fairy Mercury +++ To be honest with you, dear, I was a bit surprised as I was when you purchased the custom domain. It was very kind of you, Jason. I was all sat on just struggling along with another shit blog account that they all leave almost nothing to be desired. My courtiers entourage like to call it 'limp dick moment'. That night was definitely that! It all started with that fucking lag in typing. Then we knocked off so Johann could nip over to do that pool plan. Then when we tried to upload that video we were locked out of accessing that post. It just got worse from there. I wanted to do the Hyde Park thing but I was so bloody upset I cancelled.
From fan Jason Long - I'm sorry. 😞 I remember being on the private site/fan club and chatting with the other fans and then suddenly things went from your fun loving campy-ness to wtf?! Then I thought, oh no!! I know he will be beside himself because he lives for his aspirations / his talents and his adoring fans. Then I got to thinking when I was reading you guys trying to check out Wix and all these stupid blogs - why the hell doesn't FAMOUS Killer Queen have an actual website. You deserve better than a lousy stupid blog. A website would be more classy and you. So I decided to go check out what Network Solutions had to offer besides domain names. Sites like that usually offer web hosting.
+++ Fairy Mercury +++ So anyways, my precious fans ... I am completely exhausted after playing my show tonight.
I feel on the verge of passing out so I am going to wish all of you sweet dreams. xx
'I've taken my bows and my curtain calls
You brought me fame and fortune and everything that goes with it
I thank you all' (from Queen's 'We Are The Champions')
​
Through the lens of my camera and the work of the German wardrobe designer who goes by Johann Wagner we will delve into the making of the exotic prancer Fairy Mercury who's life so eerily mirrors the rock legend Freddie Mercury who he aspires to be. - Greg Hastings / viVid Photo Studio - personal photographer to Fairy Mercury
'Without fans the entertainer really has nothing; if his talents can't be adored.
It is the excitement, the interest, the adoration of the audience that is the real ecstasy.'
Fairy Mercury, famous look alike/impersonator of (1970s) Queen's Freddie Mercury
​
______________________________________
The Present In Continuation
​
Things became silent, so I slinked out of my hiding spot. I came near the foyer area and could hear him saying, '… you must understand, she lives a Bohemian way of life. I refuse to be like Nureyev hiding the relationship with Freddie Mercury because not only they being 2 very famous prominent figures and gay was unacceptable. I don't expect nor do I want her to fit into our high society. Nureyev had his hidden pleasures and mine are the same with MY Freddie Mercury. It is destiny.'

Obviously he left it at that because I was startled, my darlings, when suddenly he was there before me catching me having a nose. HA!!! I gave him the bracelet telling him, 'I refuse this!' He is so fucking charming!!! This is what he replied, 'I love you that much, kitten. My thoughts and feelings are consumed by you. I didn't expect you to accept it or even wear it. I will return it to the vault. You know, there is – how you say? - much riding on your premiere performances at Haze Theatre this weekend.I've had many calls and visits. One very high prominent in the world of ballet told me he had watched the 'All Dead, All Dead' video – his exact words, femmka – 'What an exotic beauty. The ability to emulate Freddie Mercury to the minute detail is stunning. The extreme likeness – astounding.'
There will be many near and in Hyde Park with their opera glasses watching from a distance, not wanting to mingle with your fans. No offense to the fans. Watching as I gift you the engagement ring at the Peter Pan statue – as you wish. You must understand, femmka, I will give you everything and anything you desire. There is nothing (heavy emphasis on the word) I wouldn't do for you. I would even become as the ballet of Romeo and Juliet. I would die for you. I wish for you to be silly girl and wear a hijab – those dark exotic eyes gazing at me with the pale blue eye shadow on them when we marry. Should you like this back or should I put it on.' holding out the cock ring.
Candid of me putting on my black nail varnish
('Mercury' filter)
​
Left: The 'black queen' look written about in below
This is how I replied to that, my darlings. In the most erotic purr to … arouse … him, 'the warmth of your cock it had from being around it has gone from my wrist, Rudy, put it back on and let me take it off to wear as a bracelet again after you've fucked me.' He says, 'Now?' and I purr, 'no, later, darling.' He was obviously disappointed I told him later and mutters something in Russian tossing the cock ring into the ornate jewelry box along with the bracelet of Anna Pavlova. I couldn't help laugh, dears!I told him, 'Rudy, is that appropriate?! I don't think Anna would want your cock ring with her bracelet' (now it that's not campy I don't know what it, darlings!)
He laughed snatching the cock ring out of the jewelry box and took my black nails left hand saying, 'come, I show you'. That was when he took me in another room and showed me this photo (below) for privacy purposes the people in it were 'edited out'. Being fitted for wardrobe to dance as Prince Albrecht in the ballet of Giselle. He told me this is how he is going to dress to marry me!! For those (unfortunate fools) not familiar with ballet and the legendary 'lord of dance' Rudolf Nureyev, the ballet of Giselle was as they say in the entertainment business 'broke him'. Defined – sent him on his rise to fame. Such as 'Seven Seas Of Rhye' gave Queen their first hit sending them on their ascent to legendary status.
Recent I read in 'the book' (I still can't believe such book exists! It really is revealing. I texted 'ultimate fan' Rich and told him how I long to be my idol '70s Freddie Mercury and to have the relationship he had with Nureyev. It really is scary how identical Pavlova and I are to those two).
The sexual uncertainty is always a mystery. Uncertainty excites and enchants. There is no asexuality if it is photogenic. The male beauty is more naked. …. I (Nureyev) don't want to turn off my sperm sucking slut (Freddie). His kiss with repeated drooling hunger. His breaths detonate my orgasm. My heart is drained. Finally he becomes silent between my legs, his sexual passions are satisfied, for at least awhile. He is insatiable. His trembling lips and craving tongue … an animalistically attack … my scrotum. Realizing it's his personal parting ritual, his way of saying goodbye to my phallus.
__________________________________
​
​Hello dears, forgive my absence on the fan club and my public site. Things have been so hectic! Where does the time go?! I can't believe it is already 6pm here in London and I am due on stage for my second sold out show at the grand Haze Theatre in another 2 hours!!! I am so hung over!! Last night most certainly defined: 'a night to remember' and then some!! Hopefully after tonight's show, I will wind down enough to post more. I NEEDED to post something to you, my precious fans. All the excitement in the comments section from those who were in attendance. So here are photos I want to share with you in the mean time. The next page we will be 'revising' will be No Escape From Reality (line from the magnificent 'Bohemian Rhapsody'). Very befitting for the next up and you will soon see why. Love and kisses to you all, darlings. Fairy (more from 'the book' coming too!)
Greg Hastings | viVid Photo Studio: We were all in a hurry to get something posted before the 2nd night show came upon us. Yes, Johann is aware of the spelling error in what he wrote with the black cat suit photo. Should of said 'took' not 'too'. Other photo - should have read 'personal' not 'person' We might re-do the errors later. No one is perfect, right 'kocked' Keith? LOL! Hope you and your two friends Leigh and Chris enjoy Fairy's concert tonight since it's the one you got tickets to. Johann will be doing a detailed 'recap' of yesterday's events. Hyde Park, the concert, to the very wild after party.
~~~ Fairy Mercury ~~~ I'm just having to, dears. Btw, thank you for the comments so many of you are leaving on the photos I shared. Mmm... the rope criss crossing over that well endowed enormous fucking cock of his ... The 'alone time' him and I spent last night after we got so (as he puts it) 'wickedly intoxicated' was so naughty! I might share it later which includes me getting the cock ring back I so fashionably and erotically wear as a bracelet. HA!!
Oh wait! Is that it on my left wrist in the black cat suit photo?? ......
________________________________________
Johann Wagner, costume designer for the ever so elegant Fairy Mercury: It is 11:30pm. The exotic prancer just finished his 2nd night sold out show at Haze Theatre. The second day of his Flight Of The Fairy ... Revisited tour. The fans comments being left in the fan club comment section have been overwhelming and far too many to address. From comments on 'inside Haze Theatre', of course, in awe of Fairy's show and the Hyde Park moment. I re-did the mistake on the one photo. I'm just going to leave the mistake on the other. Mistakes makes things more authentic, as Fairy would say. So here is a brief 'write up' I did on the Hyde Park moment. On the 'No Escape From Reality' page, I will have the continuation I've mentioned at the end.
Greg Hastings (as you fans know by now is Fairy's personal photographer and my partner) and myself pick up the glam rock queen and we head to Hyde Park to meet up with the Russian ballet danseur and owner of Haze Theatre - Pavlova. Avid fans who have been following along, on the page Divine Lush Creature. The exotic prancer talks about Pavlova wanting Fairy to marry him.As long time fans also know, Fairy has an obsession with Hyde Park because of the legendary '76 Hyde Park concert Queen played. The glam rock queen loves to go for walks through Hyde Park. The Peter Pan statue has become known for 'the meeting spot' where 'her' and 'her' handsome 'Russian prince' Pavlova meet. To 'celebrate' the start of Killer Queen's 'Flight Of The Fairy … Revisited' tour, 'she' asked that 'her' prince gift 'her' the £100,000 engagement ring he purchased at the Peter Pan statue in Hyde Park moments before 'she' was due on stage to rock 'her' adoring fans at 'her' sold out opening night and first ever performance at Haze Theatre.

Fairy dressed in the erotic obscenely tight black satin catsuit – designed revealing open in front exposing 'her' tits and falls just below the navel. The layered necklace like an alluring temptation drawing attention to 'her' tits (as Pavlova lustfully pointed out). Killer Queen, slips into the fur the 'Russian prince' gifted 'her' during Xmas. We arrive and the Persian sibilant purr, sounding noticeably nervous, purrs, 'I told him rain or not we've committed to doing this. Isn't it so romantic?! My precious fans are so taken by it – it's so (pauses) fairy (laughs) tale.' then slinks out of the car with a toss of the long midnight black hair laughingly purring, 'come, darlings, my prince awaits his queen.'
I glance at Greg who gets his camera ready as we can hear the Russian accent nearby saying, 'what time you have, Ron? She mustn't be too late.' then upon seeing Fairy approaching, 'ah! There she is. My sinfully forbidden creature and looking as divine as ever. Oh, and there they are' with a shy glance at Fairy's bare tit's under the open fur. The exotic prancer glances over at me with an embarrassed look.I quietly laugh thinking of what he posted on his public site to you, his adoring fans– 'something you want to happen but not talk about it... '
​Ron Craster, Pavlova's personal assistant and stage director at Haze Theatre is holding an umbrella over Pavlova telling me, 'droves of fans, Johann. He hired body guards to keep them at bay. Fairy is getting too famous to make public wanting to do things like this. I bet half if not the entire sold out crowd is here wandering about and waiting around.' then falls silent as Pavlova nudges him with a stern look and his broken English Russian accent says to Fairy, 'we do this, then we go. Over there I have a limousine waiting to take us to theatre. We discuss later, femmka.' and slowly goes down on one knee.He takes the divine lush creature's black nails left hand and caresses the back of it then delivers his princely kiss on it and gazes up at Fairy saying in Russian, 'I want you to be mine forever and always.'and slips the breathtaking £100,000 engagement ring onto Fairy's finger. I can see the Persian's exotic eye lined dark liquid brown eyes nervously staring at Pavlova refusing to even so much as glance at the ring. Then I hear him quietly purr, 'I'm going to faint, dear. I feel faint.''No faint. No. Come now, femmka' Pavlova breathes quickly pulling Fairy along by the hand at a slow jogging pace to the awaiting limo.
Later, Fairy told me what occurred in the short limo drive to Haze Theatre. I'm going to recall it even if it's very sexual. I asked him to post about it but for some odd reason he told me to post as it was told to me by him/her …. When they got into the limo, Pavlova was telling his personal assistant, 'get her champagne. She mustn't faint.' and undid his trousers. Fairy managed only 2 sips of the champagne Ron Craster gave 'her' before the next thing 'she' knew, Pavlova had gently taken hold of 'her' midnight black hair head lowering it to his lap – now exposed cock, saying something in Russian and hears Ron Craster saying in slightly embarrassed tone, 'he's telling you, here have this – calm yourself'
Fairy took Pavlova's cock into his mouth giving him a blow job then slipped the cock ring off it putting it on 'her' wrist – wearing it as a bracelet. As 'she' goes to get out of the limo, the 'Russian prince' caught hold 'her' fur coat clad arm telling Fairy, 'after your concert, I want you, my forbidden pleasure, to show me your Bohemian way of life as unruly and prima as it is – as you are, kitten.' When the exotic prancer finished telling me all this, 'she' laughed purring, 'I still can't get over the 'kitten' bit!' Then showed me something in 'the book' that what the Russian ballet danseur said before they got out of the limo reminded him of:

He (Freddie) adores sucking my cock. From time to time convulsive spasms erupt his nipples. Between us a mute understanding. Our erotica fantasies coincide. Who cares what is going on around us in a perfect world of wonder and amusement. I (Nureyev) pay my price to be a superstar, to be superiorly wealthy and to be superiorly lonely.

Fairy wants us to combine all the things that's been posted from 'the book' into one section. So Greg is working on a 'picture thing' to do just that. I'll add it to the upcoming revised page.
​
To be continued with the things I observed during the glam rock queen Fairy Mercury's concert along with the very wild after party and the 'fairy … tale couple' got 'wickedly intoxicated' (as Pavlova puts it). Below 'matching' in white leotards. The gif IS NOT sped up! This is how fast Russian ballet danseur Pavlova can 'fly' doing a combo of pirouettes and arabesques. Performing as Nureyev/prince during 'Bohemian Rhapsody' section of Fairy's concert. And yes, fans, we 'pin up' Fairy's long midnight black hair to create the shorter mid length look 'her' idol '70s decade Freddie Mercury had when he took up wearing the leotard look.
Hello dears. I have decided to go from posting in the fan club to giving my public site attention. First off, I want to say this about my new ultimate fan Rich. He hates the internet and has stated many times that he only comes online to pay bills twice a month and to look at my public site and the fan club. He is not into 'internet things' including participating in comments sections, etc. He did feel moved to post a comment to the fan club comments section and I want you, my precious fans, to be kind to him. He posted: 'The book' is the bible and the entire world needs to bow to it along with worship the glam rock effeminate queen Fairy Freddie Mercury and HER man Rudolf Nureyev Pavlova. I have come to idolize Pavlova and worship the effeminate queen Fairy. HER likeness to '70s decade Freddie Mercury should make everyone stand in awe! I have been a fan of '70s ONLY Freddie Mercury since '74 and am a self professed know it all. The things being written from out of 'the book' really brings into perspective so many things. I just really feel sorry for assholes out there who aren't fans of superstar effeminate queen Fairy 'this day and age '70s Freddie Mercury'. After seeing the videos by fans (in the comments section) and HER photographer posted on the fan club of HER and Pavlova in Hyde Park, they are so perfect together just like the idea of Nureyev and Freddie having been lovers is. I'm glad all of Fairy's fans are obsessed because I am too. Fairy ... tale couple - they are that for real!! Two VERY attractive and unique individuals who belong together forever. Forever fan, Rich
I like to thank you for posting the comment. I will be eternally gratefully in debt to your support and fandom. Now onto this. Johann was told off by the delectably handsome Pavlova. I don't even know if I can bring myself to share this, darlings!!! I witnessed his temper that old bird tried to talk to me about. They were in a heated argument in Russian backstage last night after my show. I glided over to see if what that old bird said about me being the only one that will be able to calm him was true. I had to save my poor best friend (costume designer) from whatever they were arguing about. So I glided over to them and upon seeing me, he possessively (mmmm.... I fucking LOVE a possessive man) put his arm around my waist saying in this stern tone, 'we go, femmka. No parties. We leave now!' We exited out a back entrance and once in the limousine (along with his personal assistant), my phone rang. It was Johann. HA!!! He told me what they were arguing about it and I just can't!!! He was telling Johann off about 'sordid gossip' and refuses to let Johann post about the after party. Then Johann told me this, 'he said to me, now it's become a joke about her tits. Am I to ignore now? Perhaps I should have never made that video back then and made mention. Now she's embarrassed and playing games covering up in my presence and I want to blame you!'
I told Johann I would talk to him about it. So today I did. Now that I've some what recovered from the no words can even begin to describe last two nights, my darlings! What a turn out and it was surreal!!! I can't wait until you read what Johann will be writing about the reactions he observed. That he will be able to write (picture me in hysterical theatrical laughter, my dears). So anyways, this is what I did. I took his hand and held it pressed to my ... tits ... (being overly dressed...) and purred in the most erotic tone I could, 'Rudy darling,Johann told me what you two argued about last night back stage.' He heavily sighed, his eyes glancing from my glossed lips and fix on my hair at the side of my head. I continued on purring ... 'Are you embarrassed to read yourself put into words? Sometimes it embarrasses for me to be too, dear. Please don't blame Johann and nothing has become a joke. It's just, I've never had a man like you and believe me it's NOTHING bad! EVERYTHING about you - your looks, your personality, the ways you treat me, talk to and about me to having sex with you is BEYOND any man I've ever dreamed of having. You really are like the handsome perfect prince.'

He sighed again and said, 'I can say the same for you, femmka.' then joked, 'except for the prince part.'Then gazed at me laughing at his joke and caressed my cheek quietly saying gazing into my eyes, 'lovely exotic queen. Forbidden creature and so sinfully divine in every way. Your performances at Haze Theatre - how you say? -you wooed even aristocratic snobs.' I purred, 'did I, dear? Even in my satin knickers? Tell me what they've been saying, Rudy.Of course, they've been talking or it's been getting back to you.' He laughed and told me, 'Well, one remarked it was raunchy but they supposed so - it's rock music.' Then he laughed and told me that wildly hysterical old couple are coming for tea Tuesday and we should stage more of me being there. I laughed telling him especially now that they were at my concert. I'll be sure to post about it, my dears. We will now be starting the new page. Again, many MANY thanks for those of you, my precious fans, who came out and saw my Haze Theatre shows. Onto Manchester. Are you ready to be rocked, Manchester?!