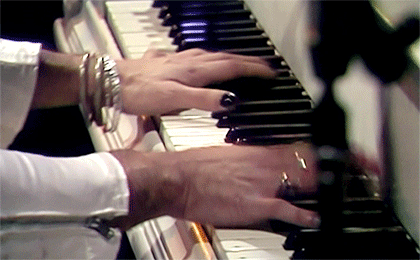 Fairy Mercury is a famous Freddie Mercury (of the 1970s) lookalike/incarnate.
"This day and age Freddie Mercury" claims his adoring fans
Featuring: Russian ballet danseur Rudolf Pavlova
​At Fairy's request, the following was transferred from the page Unruly Queen onto this page so things can continue and pick up from there. Considering things became ruined about plans she had presenting her new video all due to website issues.
~~~ Fairy Mercury ~~~ Remember this, Rudy darling? (above screenshot) That is so us right now. My precious fans, we are back in England. I'll admit, I dreaded to come back. Things are so somber. England mourns her Queen and will never be the same. Her generation is what England stood for. Not those clowns who stand to inherit. I will say no more.... Queen Elizabeth had such a radiant smile. I'll miss her very inspiring Xmas messages. I always looked forward to them. Please don't judge us for this, dears. Timing couldn't be more horrid. We hesitate to even present it to you. My new music video of me performing 'You Take My Breath Away' and 'You And I'. It is filled with loads of footage of myself and Pavlova. We premiered a little of his choreographed version of the ballet of 'Giselle'. Prince Albrecht mourning at Giselle's graveside. PLEASE, my precious fans, think it not inappropriate. We are artists and our lives go on, in spite of the fact our beloved Queen of England's has sadly ended. We credited fan John Price at the end and I teased that I might just hire him as my mock up Queen band's guitarist. He thinks I'm joking and I'm not really.
So here it is, honies. I hope you enjoy it. As always, leave your opinions in the fan club comments section. I just have to share this with you. Pavlova bringing up 'dancing ballet to that tart's rock music' remark that one old bitch kept saying. So offended. He told me he would not dance to 'You And I' because 'You Take Breath Away' is more ballet and can be danced ballet to. 'We use footage for rest!' his Russian accent told me then he sauntered off muttering something in Russian. His valet translated it for me, 'I'm off to take shower.' I glided off after him and slipped into the bathroom. When he was undressed, I revealed my presence and - I mean, I just can't, dears!!! This is what he said (back still to me), 'I know you're there, baby, I can smell your exotic scent.'
I went to take off because - I mean, I just can't!!! ... He caught me around my midriff and pulled me back against his delectably (highly pleasing) ballet danseur body and I could feel his distracting enormous fucking cock pressed against my ass in my 'obscenely tight' satin trousers. I turned to face him and took his cock in my black nails left hand and purred in the most erotic tone I could manage, 'Rudy darling, let me show you something.' I mean, his reply!!! He said, 'well then .... if you hold my cock like that, you can lead me anywhere.' I quickly slid the custom cock ring (MY fashionably naughty bracelet) off his cock and took off! I could hear him calling out after me something in Russian. Luckily his valet was nearby and heard. I saw the embarrassed look on his face and he was like, 'I suppose you want me to translate what he just said' With a ... flick of the wrist ... I purred, 'naturally' and he told me what he had called out after me, 'you rough unruly exotic creature! For having such delicate slender hands, you are the least bit gentle with my manhood.' FUCKING PRINCE!!!!!! I mean - seriously! I fucking loved it when he made the screenshot of these two photos together .....
While looking over where things left off on my public website, it saddens me how the premiere of my new
music video and the plans I had for it (such as discussing it) ended up ruined. Sort of. As fan club members know,
we ended up doing all that on my fan club site instead. We are not going to have all that transferred onto here. Because if anyone who is a seriously interested fan of me needs to request fan club membership if they aren't
a member.
First Queen Elizabeth died and put everything in a somber mood. Then that bloody website/hosting issue with
my public site, which ruined the premiere of my new video and made us all in a very bad mood. Then Queen Elizabeth's funeral. It has been a horrible disastrous past 2 weeks, my darlings, that's put us out of sorts.But we are now ready to press forward. I'll start with 'recent snaps' - below photos. They were briefly mentioned, by me, on my fan club president Geoff Stafford's fanzine page.
Remember that book I told you I found in Pavlova's Cambridge estate's library? With that silly Seth (ancient Egyptian god) stuff in it? By the thunderous peals of Seth's farts, what was that? Well, this is the recent and I laughed so hard! He was so fucking delectable how he reacted. He tried to take the book away from me, Russian accent saying, 'well then, femmka, I think that book needs to go.' I tucked it under my thigh so he couldn't take it and … purred, 'No, Rudy darling! It's hilarious! That author is so obsessed with -' before I could say the word (which I had no plans in actually saying the embarrassing word), he pressed his fingers onto my … erotically … drenched in gloss lips – broken English Russian accent in his so very princely way saying, 'don't utter such word! It's indecent and unlady (paused and looking embarrassed, rephrased) not at all effeminate for you to be reading (pause) well, as funny as it is.' obviously his train of thought ended up lost as I watched his handsomely charming blue-gray eyes glance at his fingers pressed onto my glossed lips … He then muttered, 'well then -' ….. and left the room.
As if you won't, darlings, you always do - comment on the gifs we made of ourselves in the fan club comments ....
I wish to take a moment to remind fans (especially newer fans) EVERYTHING on this site is myself and Pavlova unless otherwise stated. Yes, we look that identical to our idols 1970s Freddie Mercury and Rudolf Nureyev.
So this is hilarious, I mean, I was literally laughing over it, dears! New things that were written. 'By the melodious farts of Seth' and then this part where the main character makes this makeshift version of a chariot and when they try to help the others in the war being waged on the banks of the Nile, in their makeshift chariot – the horse galloping with tail raised high, farting. Then the chariot falls to pieces and the horse runs off. I was laughing and literally saying this aloud, 'what is with this author and their obsession for - that?!' I couldn't and can't say the word even – it's just that embarrassing and besides, honies, it isn't one bit attractive.

Apparently, Pavlova wants to post about our rehearsing his choreographed production of the ballet of Giselle.
I hope it doesn't embarrass me what he's most likely going to write… He is so fucking princely and romantic. Such as the ways he behaves trying to teach me the part and ballet. His touch … it's so – mmm – He'll have his hands on my hips or alongside my thigh or caressing over my shoulder and he'll quietly breathe in Russian what I was told in English 'like this, femmka' trying to … position … me. Mmm – I know MANY … positions … I … desire most, Rudy darling.
Pavlova (Haze Theatre/ballet danseur) – Of course, 'glam rock queen's' adoring fans would like to hear how her rehearsals for ballet of Giselle is – how you say? 'coming along'. One phrase sums it up - 'overly sexual, campy unruly exotic creature' Ballet starts out with Prince Albrecht and courtier goes to peasant village. Albrecht in guise of peasant tries to romance Giselle. Peasant he had seen and fallen in love with while passing through peasant village other day.
Part of ballet when Prince Albrecht makes several attempts to lure Giselle to let him kiss her. She is reserved and shy and refrains. Instead of reacting as this, unruly exotic creature – 'campy tart' – lets me lean in for kiss with her aroused purr 'mmm'. I tell her no, not how Giselle is portrayed. She expects to wear that … lip gloss … and I tell her no. Peasant is plain. Not slutty. Remove necklace … and jewelry. You can't be glam for this role, baby. ….
Of course, with that … she becomes shy. Gaspily purring, 'oh my god! What did you just call me? I just cant!'

Ballet meets obscene Cabaret
The sweat glistening on her ... tits .... in gif I made of her ... Too arousing.
Deliberately brushing her lovely slender hand across crotch of my leotards. In her attempts at ballet – being campy tart singing (from Cabaret) 'money makes the world go 'round' complete with swiveling hips dance move of Liza on performance of song 'Money, Money' off movie. While pressing her little ass back against … me. Complete with long midnight black hair tossed back into my face.

'Glam rock queen's' long time adoring fans most likely remember below screencaps of something I write (including video mentioned):
The effeminate queen adores the male anatomy and it was noticeably obvious the moment I met her.When I dance, I speak Russian. My first language. My English is very poor as was my idol Nureyev's. When I dance, 'divine lush creature' becomes so mesmerized and obviously very sexually aroused by it… I hold out hand and she places her lovely slender black nails left hand in my hand as I tell her in Russian, 'you dance with me, femmka. If you dance role of Giselle you must dance with me.' Her lovely eye lined dark exotic eyes looks to my valet for translation. She backs away gaspily purring, 'No! You can't expect me to dance with you! I can't! You're a professional ballet danseur. I would throw you off and -' I try not to laugh over what I tell fans next. She … melodramatically … turns away forcing me to ask what is wrong. Her very pouted reply with romanticized gleam in lovely dark exotic eyes,
'I want you to pick me up like ballerinas are by the danseur on the pas de deux'
​
Pas de deux (dance of two) which is literally the …. (ahem) … climax …. of ballet. Where the ballerina and the danseur dance together. I remind her the last (and only) time we attempted this. When she came (for first time) to my Cambridge estate. I picked her up trying to show her certain ballet moves, she panicked and we went to floor. Then I tell her, if we attempt this again, you MUST relax. I am professional danseur, I know what I do and you can trust I won't drop you, femmka. This elates her and now she comes to me with her idea of 'peasant'. Being 'half naked as if clothes don't fit properly' Anything to make it sexual – to emulate her idol 1970s Freddie with the panache take on leotard and straps falling off shoulders and low scoop so … tits … midriff and nearly pubic area are all exposed. The Nijinsky harlequin leotard Freddie Mercury look has sleeves (no straps) and isn't so low scooped – covers most of her 'midriff'. So I talk her into Harlequin leotard. She was dead set on 'diamond crotch' black leotard look but I tell her no, it wouldn't be peasant. In truth, I prefer her in the catsuits …. I find it very erotic and …. arousing.
**Note: Below gif left: Fairy during live performance in replicated 'black queen' catsuit. Stunning and exotic!
Below gif right: Pavlova after ballet performance. As was mentioned in a past post, Pavlova's idol, lord of dance Nureyev, expected to be served tea and toast after a performance. Imagine being hot and exhausted after a ballet performance and drinking hot tea! Pavlova being 'groomed' in the likeness of his idol, also expects to be served hot tea and toast.
~~~ Fairy Mercury ~~~ I am not even going to reply to what he wrote!!! I feel embarrassed over it! It is one thing to have your precious fans put you into words or your friends/courtiers entourage. But for the man you love to do it is an entirely different thing! Silly me forgot to tell you, my darlings, the name of my upcoming European tour. I settled on Fairy Soars. There were many ideas I was toying with, such as the song Spread Your Wings (which I don't care for and it wouldn't be written by my beloved idol). Give me a few minutes, dears. I just can't right now!!!
Pavlova (Haze Theatre/ballet danseur) – 'Few minutes' turn into eternity, femmka. I do expect a reply .... I hope you noticed and read caption I placed under gif of you ....
Johann Wagner, costume designer for the ever so elegant Fairy Mercury: Pavlova, I laugh and have absolutely no comment about the caption ... Since you don't read her adoring fans comments they leave in the fan club comments section and I have no comment on that either why you don't. They're 'peasants' and you don't understand much of it and aren't going to have your valet explain words or phrases and translate. Besides, why should the so important and powerful Pavlova care to hear the praises and comments of the audience whereas all he cares for is their applause and the only praise/comments he cares to hear are those uttered from the glossy 'erotic sensuous' full lips or written by the slender hands of his exotic 'queen'... The gif of you in the replica snake skin suit is so you looking your haughty self. With all that said, BOTH of you have her adoring fans REALLY carrying on over the things presented them today. The photos, gifs and what was written.
Pavlova (Haze Theatre/ballet danseur) – Of course you have to make a point to make appearance and what you chose to speak of would have to do with what it does. Why?! If you are expecting to embarrass me more over 'getting in arguments over (her) tits' you will not!! Those are my only words I have for you, costume designer! Although, I admit, I like the artistic (as artistic as 'layered necklace cascading down her tits') way you put this and the truth of it: 'the only praise/comments he cares to hear are those uttered from the glossy 'erotic sensuous' full lips or written by the slender hands of his exotic 'queen'...
Jorge Schumann/PR to FM - SMFH. If it's not one thing it's another with that damn 'site editor' of this public site. Fans, it was brought to my attention a note I made on the two above gifs 'disappeared' after 'publishing'. So I am going to re-add it.
~~~ Fairy Mercury ~~~ Jorge, I will scream and will be the first to sign up my own fucking credentials to Wix if we experience any more destroying promotion - entertaining my precious fans on my public site issues! After that last bout, I personally have had it and I know Pavlova was breaking point furious over it. Thanks to my dear faithful personal photographer coming up with the unpublish idea. Anyways, my darlings, Johann is hilarious. Him telling me he (being a costume designer) gets a kick out of how Pavlova describes the replicated leotard looks of my idol he's made for me. I will never forget the first ever conversation I had with him about it. Talking about screenshots of past conversations ... Let me find it because a screencap was made of it. (Btw, Johann, he is so fucking creative posting those screencaps of the first time he kissed my lips ...) Him telling me the ballet danseur leotard isn't ... effeminate ... (like what my idol's take on it was) and the only 'panache' would be the ornate or brocade tunic worn with it by the ballet danseur.
Below left: Pavlova in brocade prince tunic dancing as 'lord of dance' Nureyev as Prince Florimund in the ballet classic The Sleeping Beauty. I picked this photo to display because this was how he dressed to marry me. He originally was going to dress in Prince Albrecht off Giselle and I never learned why he changed his mind. I find it odd considering the ballet Giselle has a very strong significance and symbolic meaning to his lineage. It was the ballet that 'broke' (entertainment talk for made your 'mark' and started your 'claim to fame') Nureyev on his ascent as legendary lord of dance. Also what was written in the diary entry I made screencap of.
Above: Me looking Freddie-Liza af in panache half naked tart 'diamond crotch' leotard look. replicated for me by my very talented costume designer Mr. Johann Wagner.
Johann Wagner, costume designer for the ever so elegant Fairy Mercury: Fairy, I just never have any comment on the diary entry you made the screenshot of... Btw, that gif next to the one of you looking so breathtaking in the black catsuit. That is him having his princely tunic removed then he puts down the straps top half of his leotard and the entire look is just as he told you. Not effeminate and no panache. Your multimillionaire Russian prince ballet danseur really is so dashingly handsome as you are so very exotically effeminately lovely, Fairy.
Cost: £8,000.
Below - Too funny! Thanks Christopher T., in France, for giving permission to screencap your fan club comment. That old saying, 'it's all in the detail' ....
Cheers! Greg Hastings, personal photographer for Fairy Mercury | viVid Photo Studio
Pavlova (Haze Theatre/ballet danseur) – I fail to mention when telling about rehearsals. Pirouette and arabesque look easy but isn't. Even my idol lord of dance Nureyev struggled to perfect his pirouette. I knew the Persian creature wouldn't be able to do these. She developed 'fluttering spin' like a … fairy … as I describe moves. I tell her, we keep in – not ballet – but we keep in. Lovely. Graceful and elegant and that is what ballet is. She is good at part where Giselle goes mad over learning she's been deceived by Prince Albrecht, ending her life. I tell her she is wild feline and natural for this scene. Tragic tale of love found – love lost. It embarrasses me to discuss this. It is out of my element. So I phrase as she does. The … issue … of my 'distracting enormous cock'… The overly sexual queen is – just as she says, 'distracted' by … it … Haze Theatre hopes to present ballet of Giselle mid to late November.
~~~ Fairy Mercury ~~~ Ahem ... hello dears. I can't believe it is already 8pm (here in England, that is). Today marks the 3rd month anniversary of myself and Pavlova's marriage. Isn't that grand? I thought I would pop in very quickly before him and I get swept away in celebrations. I quickly read through a few of the comments many of you have been leaving on the fan club comments section and am happy to see you are enjoying the new page. I will try to post more later before my Zzz time. Hoping I'm not too much of a silly drunk tart by then, darlings. xx Fairy
Tuesday Tea (time of post 3:30pm London, England) As fan club members know, Fairy being silly girl and very 'drunk off her tits' did come back on Sunday night but on her fan club site instead of her public website where Killer Queen made her last post (above) to her public site. Strangely, I was invited to Pavlova's 'Tuesday tea' he faithfully has every Tuesday (unless he is elsewhere outside of England) with one Sir Thomas. Fairy's adoring fans, you will not believe what transpired during it!! I was asked to document it. This was sprung on me last moment, so give me time to write up what happened. Most likely, I won't be presenting it until tomorrow.
- Philip Goldman, asst. photographer viVid Photo Studio
Rest of the above was posted about on Fairy's fan club instead in light of things ....
With that, I quote the magnificent Queen song written by Fairy's idol 1970s decade Freddie Mercury
'We Are The Champions' because these lyrics are so Fairy:

'And bad mistakes
I've made a few
I've had my share of sand kicked in my face
But I've come through … and we'll keep on fighting 'til the end'
I'm including, from the videos page, Fairy performing the song. Emulating her idol to perfection.
~~ Fairy Mercury ~~ I can't say this enough. I love my fans – young or old. I really appreciate the older ones though because they lived through/experienced (late 1960s -'70s) Nureyev and (1970s) Freddie Mercury – our idols. They get it so much, about Pavlova and I and aren't so out of touch about it. No offense to my younger fans. I do appreciate you as well for having an interest and like for these 2 legends – our idols that we aspire to be. The best thing that ever happened to me (besides my fame which received an … enormous … boost due to it) was Pavlova coming into my life. He completes me in every way, which everyone agrees – from you my adoring fans, my entourage and many others. Most of all, my aspirations to be my idol 1970s Freddie Mercury because my idol not only had a lifelong crush on Nureyev but eventually was in an intimate relationship with him. As 'the lord of dance' Nureyev said about Freddie, 'My last love. My destiny'
Message from Pavlova (ballet danseur/Haze Theatre) - It is 8:30am in Cambridge England as I compose this message to Fairy's very appreciated fans. Of course, my femmka still sleeps at this time of day. I have had only a few hours of sleep and have decided we are to move on completely and keep Fairy's public website up 24/7 as it used to be. It is up to us what we do and no one else. We are the ones in control. One thing Fairy and myself refuse to do is behave immature. I realized taking her public site offline is immature and 'catering to' intrusive fools and their nonsense. We've wasted too much time on it as it is. It's tiresome, boring and such an exhausted tedious topic. It just needs to end completely. I sent message to my femmka's PR man Jorge Schumann to send boy Geoff Stafford current photos for him to post to his 'fanzine page' for later today. That will be our start of moving away from the nonsense and getting things back to normal. Your lovely unruly 'glam rock queen' gave me the most erotic blow job before bed ...
​
________________________________________
~~ Fairy Mercury ~~ It is now after 3pm here (for my European honies with a time difference). I woke up about an hour ago. This is too funny! I saw Pavlova posted what he had and teased him, 'oh Rudy darling, do elaborate on what you felt so necessary to start to share with my precious fans. You know - thissss' the most erotic ... sibilant purr ... I could manage tracing my black nails (left hand only) index finger across: Your lovely unruly 'glam rock queen' gave me the most erotic blow job before bed ... He muttered something in Russian and left the room looking embarrassed. I wish I knew what he said! I thought to go after him but decided against it. This happened about a 1/2 hour ago.
About what else he wrote. Current photos of us. I have asked my best friend, my costume designer Johann Wagner to post the photos on this page instead. I have no idea why he wanted Geoff to post them to his fanzine page, who I've noticed is carrying on about it in the fan club comments ...
Johann Wagner, costume designer for the ever so elegant Fairy Mercury: I'm sure all of you, Killer Queen's adoring fans, noticed Geoff Stafford posted to his Loyal Subjects (online Fairy fanzine) page. Fairy, if it wasn't 8:30 am, I would be accusing your lordship of being drunk on his cherry brandy. LOL! Who's to know though ... So the divine lush creature that is Fairy Mercury's adoring fans are you ready for even more stunning perfection of the FAIRY...tale couple looking identical to their idols 1970s Freddie Mercury and Nureyev? Sorry, Geoff, going into your 'hyperventilating hysterics' in the fan club comments anxiously waiting for the photos to be sent to you by Jorge Schumann per Pavlova's request. I have the photos and here they are, fans. Please enjoy.
The glam rock Persian queen in fur gifted to her by her Russian prince/ballet danseur Pavlova, Xmas of 2021, the first Xmas they spent together and the first time Fairy ever stepped foot in Pavlova's Cambridge mansion. Complete with black nails on left hand only 1970s Freddie Mercury trademark look.
Right: The dashing ballet danseur from the photo shoot he had viVid Photo Studio's assistant photographer
Philip Goldman do. The one of him emulating a fave photo of his idol lord of dance Nureyev.
(Ref page: Behind The Throne)
Candid of Pavlova turned black and white emerging from limo dressed in Nureyev trademark leather look.
Right: Killer Queen looking exotic as ever with her tits on full display in black velvet wrap top with rhinestones and black satin trousers. Replicated from look talked about in book scan below on her idol 1970s Freddie Mercury. Complete with her 'fashionably naughty bracelet' (Pavlova's cock ring) on her left (black nails left hand...) wrist.
Johann Wagner, costume designer for the ever so elegant Fairy Mercury: Thanks to 'eagle eye' fans noticing this! Remember the fairy winged frock photo of Fairy holding her tits ... that Greg (Fairy's personal photographer) accidentally flipped and it made it look as though Fairy's right hand had the black nail varnish instead? Well, we accidentally did it again and you guys caught it! How embarrassing. Here is the photo and the proper way it should have been displayed. Of course the watermarking is backwards because we flipped the photo. Greg didn't want to redo the watermarking.
Greg Hastings | viVid Photo Studio: Johann, I am going to add a photo Phil took of Pavlova to post next to it. Give me a few minutes to contact him for it. I think it's funny we were fucks ups about that for a second time and the fans caught it. The photo looked kind of not right. What we get for being in a hurry.
~~ Fairy Mercury ~~ My darlings, it is 7pm here ... (for my European honies with a time difference - wink, wink)
the time dinner is served at 'the Pavlova estate'. I can not wait until I come back on later to tell you what has happened!!!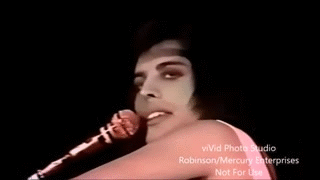 ** note: italicize used for heavy emphasis
All right, my darlings, this is what happened. I came to dinner tarted up in my eyeliner and my lips drenched in gloss and that velvet 'wrap top' …. Pavlova has the cook bring the main dish and he samples it to let the cook know if he approves. He is so fucking sexy. He sampled it then, with a nod of his wispy bob, told the cook, 'yes, serve it.' Then he wiped his lips with his napkin. As he was doing so, he looked at me – glancing at my lips. His face slightly blushed and he lowered the napkin saying, 'well then -' I deliberately picked up my wine glass and placed it to my lips … He cleared his throat muttering, 'excuse me' and got up and left the table. Most likely to … pleasure ... himself ... When he came back about a long 5 – 10 minutes later, he wouldn't look at me throughout dinner. I started to ask him something about ballet and he put up his hand saying, 'no talk' I asked him if there was something wrong. At that moment, the cook came back in.

The cook came asking him, 'is everything satisfactory?' With a dismissive gesture he was like, 'take it away. I can not eat.' Then got up from the table saying, 'Look at her! She is distracting! Would you be able to eat? Enticing lips and half naked.' I mean, I felt so embarrassed, dears!! I just sat there staring down at my dinner. I could see the cook out the corner of my eye hesitantly move to the table picking up Pavlova's dinner plate and slightly flinch as he angrily demanded, 'well, would you?!' and the cook in slight embarrassed tone replied, 'I suppose not.' His valet entered the dining room as Pavlova now saying in this arrogant laugh, 'you suppose ' laughs again saying to his valet upon noticing him now in the room, 'he suppose not. I had to get up from dinner and cum and he suppose not!' I glanced at his valet who was mouthing the word 'leave' to the cook. Here's some camp for you, dears. Talking about 'leave' – I wanted to myself but I was too embarrassed to move!!
The poor cook!! He started to leave and Pavlova very snidely, 'did I dismiss you?! I think not!' then left the room. The next time I – encountered – I'm not going to say 'saw' him (Pavlova), because I didn't. I was lying in bed gazing at the two framed photos of us on the night stand (pictured above) and I felt him get onto the bed. My back was to him, but I closed my eyes anyways pretending to be asleep. As long time fans of mine knows, I love doing that because it's funny some of the things people will do (or even say) thinking you're asleep and unaware. I felt him pet my long midnight black hair and heard him quietly say something in Russian then in English he quietly – so very romantic – said, 'I'll love you beyond eternity (pause) baby.' I mean, I just fucking can't!!! I had to force myself to keep pretending to be asleep, darlings!! I REALLY had to when I then felt him press his very erect enormous fucking cock against my ass in my satin knickers.
I heard him sigh then felt him caress my shoulder quietly saying, 'dare I wake you, sleeping beauty, and bestow my scepter upon you.' Scepter obviously referring to his fucking aroused cock and it was so fucking 'princely'! It reminded me of an erotic twisted - him making mockery of the ballet The Sleeping Beauty (one of his faves of his idol other than ... Giselle). Johann talking about 'drunk on his cherry brandy' – I think he was. I heard him sigh again then he moved away from me. Of course, this fucking tart couldn't resist that enormous fucking cock and I wanted so bad to quit pretending to be asleep and suck it ….
Hello dears. The weekdays are so long and boring I can imagine ....
The above photo left, is me during last minute rehearsals for my sold out show tonight in Bristol. I will grace the stage in 2 more hours. It is 6pm here in England for my European honies with the time difference. This queen almost had ... 'her' ... heart broken, my darlings, by my prince. Aww, I know but before you jump conclusions and get upset by it. First off, it was too funny. He was in this cocky humourous mood and his valet's phone rang and he was like, 'give it to me, most likely it's for me' His valet handed him his phone. He answered it, 'This is Rudolf Pavlova, what is it you want?!' then started to laugh and his sexy broken English Russian accent jokingly saying, 'do your fainting another time. What? You think Pavlova is incapable of answering phone? What is it you wish? Ah, the audience of the exotic creature my forbidden desire and pleasure - MY femmka. And how is Francis? I should hope we settle differences. Why they do this? Fools and he is fool to bother.' He then held out the phone to me mouthing, 'it's Raymond'
After I got off the phone with Raymond (Giraud), but before I get to that. It was crazy what he told me. He was doing his 'online personal assistant' to me role he was hired for by Pavlova and came across eCunt shit on Google shopping (one of his resources he uses to find things on myself and Pavlova's collections on our idols). That Francis (Boyd, Raymond's partner for the past 16 yrs.) was furious to find out that clownish shit show STILL hasn't closed that account. How slow!! It's been at least 3 months now since that clownish incident with those freaks happened - suspending us, like drama cunts. Who cares about negative BORING shit ...
Now onto the things I wanted to get back to.
We were laying in bed and I had my lips drenched in gloss ... a strand of my long midnight black hair erotically clinging to them. Him looking like sexy fucking windswept prince - his wispy light brown bob tousled. (my darlings, I still can't the photo I'm adding below of him, another which I took ... him wearing those shorts and his enormous fucking well endowed abundance of 'jewels' crammed in them like that ... I mean, I can just barely handle it in me or even give a blow job to ...)
He glanced at my lips then was like, 'well then, femmka, we were not virgins when we met.' My eye lined liquid brown eyes narrowed and the claws started to come out ... He obviously saw his 'exotic feline creature' becoming jealously possessive and he pressed his light brown fringe (bangs) against my midnight black fringe quietly breathing, 'now now, femmka, none of that. None of it was memorable and you are the best fuck I'll ever have. You are my destiny, I will love no other. You are my last love. For all eternity.' Fucking romantic! I told him I could honestly say the same for him because I have NEVER felt the ways I do for any man other than him. He brushed the strand of my long midnight black hair from clinging to my glossed lips and I thought he was going to kiss them ... but as always ... he shied away from doing so. I'll continue this later on. For those of you, my precious fans, who will be at my Bristol show tonight, I will see you then! Tonight John Price will make his first appearance as my mock up Queen band's guitarist. Isn't that grand, darlings?! As for that never even heard of them Geoff Stafford ....
Pavlova (Haze Theatre/ballet danseur) – It is 11:40pm here as I compose this. More problems! Fairy tried to post on public site before her concert tonight. Login and taken to blank page. I won't go into details. we are doing away with prying fools who insist on 'stalking' and not fans, thinking they will cruelly use my femmka's public site for attention. I thought she was the star ... How you say, Jorge? Prying for a 'head's up'. As photographer remarked last time we had issues, we do our own troubleshooting. You can't rely on the fools. Yet we pay them money for hosting, etc. So she is upset. I tell her I try to access after her concert. Same thing. Finally I access.
What my femmka posted yesterday on here. I make vulgar joke, 'well then, I suppose we don't need lubricant' referring to the ... lip gloss. Forbidden desirous exotic creature's gaspily purred reply, 'what?! Oh my god, what did you just say, Rudy darling?' then she slapped me!! Conduct I am not accustom to. The unruly creature turn wild feline - I laugh, actually. 'Do you want me to take it off?!' she pouts, then proceeds in using me to wipe the ... lip gloss ... off her enticing full sensuous erotic lips. Upset angry wild feline arouses me, so I respond, 'dishevel me, baby' Apparently that was a mistake. I said dishevel - not suffocate me, femmka! I end up with pillow over head, wild feline shrieking, ' stop it!! You have the nerve when you see I'm upset!!' Oh, so prima, so unruly and such a forbidden pleasure .... I can only imagine her response when she reads this. The 'ever so elegant glam rock queen' Fairy Mercury's adoring fans, I personally would like to thank you for coming to see her shows in Bristol tonight and last. We make new video soon.
~~~ Fairy Mercury ~~~ My precious fans, I have asked my PR man/website designer Jorge Schumann to try desperately to find a solution to that damn 'stalking glitch' issue once and for all. I pray to Allah he does. Rudy darling, I can't believe you posted what you did!!
​
From Geoff Stafford avid FAIRY fan and fan club president - I hope you guys don't mind I post since I was told not to on my exotic idol's public site. [Edited out]
Mr. Giraud told me this, that he noticed ever since Fairy pulled out of involvement in eCunt and had him move to close that account and Pavlova hired Mr. Giraud as Fairy's 'online personal assistant', the people and sites he's found to purchase things on her behalf behave like 'normal human beings' - unlike that stalking crazy immature carry on like jealous freaks eCunt and their freak show sellers. Stalking and behaving jealous at Fairy (the ugly dog cunts) and jealous at Pavlova (the ugly dog pricks). They can all just go to hell and learn to accept things. That they're boring little nobodies and Fairy is really famous and has her important multimillionaire prince. Either be fans and seriously interested supportive fans or sod off! That has ALWAYS been the simplified message.
We NEVER bother people, we mind our own business running this public website to promote Fairy and it's just crazy and foolish people take it upon themselves to 'stalk' and be jealous and mean towards her and Pavlova! They act like people don't have feelings. I know her feelings have been deeply hurt. As if it isn't obvious because things just aren't the same with her public site and her adoring fans have noticed it and they are very upset by it. I loathe insensitive idiots who just can't feel guilty and sorry and realize it's all because of them. That's all I wanted to say. I worship you, my exotic idol, beyond words!!! I'm posting in your unruly queen own words: 'sexy fucking windswept prince - his wispy light brown bob tousled' I came across in the photo files next to us - me meeting you for a second time inside the cabaret. PLEASE win through about bringing your fabulous public site back to life like the captivating way it used to be.
Greg Hastings | viVid Photo Studio: Geoff, thanks for that post which I really liked everything you said in it. Let me clarify something you said: I know her feelings have been deeply hurt. As if it isn't obvious because things just aren't the same with her public site and her adoring fans have noticed it and they are very upset by it. That isn't exactly true. Fairy DOES NOT dwell on negativity and that includes jealous haters and 'stalkers'. Her thoughts & feelings are consumed with her aspirations to be her idol 1970s decade Freddie Mercury and her obsessive love for her man Pavlova. Her Nureyev - as her idol who had a lifelong 'crush' on. It's unrealistically crazy how they are so reincarnation of their idols in so many ways. Why it seems like what you're not entirely right about is the decision to quit posting to the public site on the weekdays. We can see now we need to drop that. Besides, we rid of the stupidity of why that decision was made in the first place. Mr. Giraud even gradually has taken up looking for things in the evenings, setting aside 'quiet hours' to do what he was hired for. So, the ever so elegant Persian queen's adoring fans, that's the truth. Never come to false conclusions! As that age old adage has it, we need to get the show on the road.
Jorge Schumann, PR to FM: I agree with what you're telling the lad, Greg. Especially when you said 'we can see now we need to drop that'. Because it's been a little over 2 whole looooong boring weeks since why the decision to quit posting to the exotic queen's public site was made. 'The storm has blown over' and it is time to let it go and move on and get things back to normal, so to speak. I just hope it made many idiots realize what things would be like if there were no glam rock superstar Fairy Mercury and her multimillionaire ballet danseur Pavlova. Because life sure has been really fucking boring these past several weeks - a glimpse into what life would be like if those two capitivating unique entertainers were no more. I will be meeting with our lordship Pavlova tomorrow in his office at Haze Theatre and I can imagine this will be discussed. For you, Pavlova ... we go back a long ways (below gif) and remember how you liked what I wrote to you about the gif (right)? ... it reminded me of that x-rated bit you
(unlike you...) shared with your femmka's adoring fans about those ... wet ... lips. So the unruly wild creature for real slapped you. LOL
Our lordship dressed down from his usual dashing tailored look practicing his method acting and pirouette with me on standby. #HazeTheatre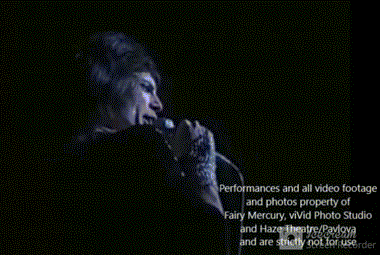 Gif - video footage of the glam rock queen Fairy Mercury performing her first two ever sold out shows at Haze Theatre. (note to Pavlova: where she throws her long midnight black hair head back and her full glossed lips and tits are thrust out is too erotic, don't you think?? ....)
Pavlova (Haze Theatre/ballet danseur) – Jorge, about 'wet lips' ... I told Ronnie old boy that I was going to say wet pizdat but I knew I would have recieved more than slap. I think that is the sinfully erotic look she wishes to invoke with that ... look. You look at them and all you can think is putting your cock in them .... I can imagine I'll get a lashing from Sir Thomas for engaging in improper sordid gossip with you.
Jorge Schumann, PR to FM: Absolutely no comment!!! Btw, the lad is in the fan club comments carrying on over what you posted about his 'exotic idol'. Too funny. I heard rumours you're planning on making a trip north to ... Snowdon with Fairy ..... The recent incident posted about in the fc comments 'sighting' of you two at the Peter Pan statue in Hyde Park. Her fans really are fun, funny and entertaining. They are so obsessed by 'the FAIRY ... tale couple'. Talking about that, when will 'Mr. X's' book entitled that on the two of you be finished? Discuss merchandise tomorrow?? +
Ron Craster, valet to Pavlova & stage director at Haze Theatre - Killer Queen's adoring fans, I thought I would sneak on and share this with you because I was told that many of you are in the fan club comments wondering if Fairy is going to post today. It is just after 8pm here (England). Pavlova has dinner served at 7pm. Apparently, Fairy is being very melodramatic. Pavlova seated himself for dinner finding a note under his napkin on his dinner plate.
It was from her. He read it laughing and shaking his head saying to me in Russian (translated to English for you)
'Oh what have I done? Apparently (pause) well, you read, Ron.' I took the note and this is what was written:
'Rudy darling, you have managed to embarrass me in front of all my fans what you wrote last night and in response to Jorge Schumann today!! I can't even bring myself to look at the comments they are probably leaving! I am at the front gates waiting for Johann to come get me. I will be having dinner with him and Greg! I can't face you!! I am so fucking in love with you! Fairy'
He declined dinner and went into the tea room to have me serve him his cherry brandy and has been sitting there the past hour breathing her scent on the letter (romantic) looking forlorn. I can only imagine what has been going on in his mind. My ringtone went off and he, in distant tone, in Russian 'no phone calls, unless from my femmka, Ron.' The caller was Sir Thomas .... I told the man Pavlova doesn't wish to be disturbed and the man replied, 'he is a young man obsessed with the forbidden exotic creature he is so very in love with. Very well. Have him phone when he's in a different frame of mind.'
​
________________________________________________
​
Johann Wagner, costume designer for the ever so elegant Fairy Mercury: Adoring fans of the divine lush creature that is Fairy Mercury. It has been a very busy morning in Fairyland or I should say at Haze Theatre. Fairy still maintains her sleeps until noon-1pm sleeping habit. It is after 3pm here in London. I can imagine she is still preening herself for the day. Pavlova is holding court in his office here in Haze Theatre. I will be doing one of my (long time, huh?) 'write ups'. He came to get Fairy yesterday! He has never been to myself and Greg's home. Remember how we're such 'peasants' and you longtime fans knows how he feels about me. Fairy being her campy queen self and I can't wait to present it to you. In the meanwhile, talking about preening ... enjoy below I took from a past post/page.
Gifs left: Fairy doing the habitual 'preening' habit that both Fairy and her idol (1970s) Freddie Mercury would do.

'The person who was edited out of the photo I was signing an autograph for kept telling me how awestruck they were by my 'striking resemblance' to Freddie Mercury, 'you even move like her' (yes, using the feminine...). It made me uncomfortable how the person kept watching almost rudely staring at me! Like in this reflective way. As if remembering. You know, one of those old scenarios of meeting someone who was a 'long time friend' of the family and they're saying to some child,
'you look just like your mum, you even have some of her habits' and then sitting there watching the child as if reminiscing about mum. That was how the man behaved towards me.'
Fairy talking of famous figure who ballet danseur Pavlova knows who knew both Rudolf Nureyev and Freddie Mercury.
Reference: photo below and page 'Bohemian Queen'
Following 'write up' by: Johann Wagner, costume designer for the ever so elegant Fairy Mercury
Where to begin. You fans read the things Pavlova posted about. His own account about what Fairy was going to come back on after her Saturday night Bristol concert to finish telling you guys about.You read her brief reply.
Then Sunday the Russian prince/ballet danseur posted what he did to the exotic prancer's PR man Jorge Schumann. When she read it, she phoned me. Sibilant purr gaspily purring over the phone, 'have you read what Rudy posted on my public website to Jorge?! I mean, I just can't!!! We are having dinner in about a ½ hour and there is no way I am going to be able to face him after that! Read it, Johann! I literally turned scarlet over it! There is no way I am going to attempt to look at the things my fans must be posting in the comments about it! Do come get me. I'll be waiting out by the front gates so you won't have to deal with that nasty bodyguard greeting you and giving you a hard time about permitting you on the grounds.'
With that, the Persian glam rock queen hung up before I could say a word. I got on my laptop and read what Fairy was so embarrassed by. 'Tsk. Tsk. Pavlova, you really are living up to being the incarnate of your idol Nureyev, aren't you?' were my thoughts over the extreme naughtiness. I really wonder if our lordship even took into consideration what Fairy would be thinking, saying and reacting to it.
All of it is so him being identical to his idol Nureyev and one couldn't help be obsessed by this clip (above) of the legendary ballet danseur Nureyev from off the movie Exposed.
So Greg and I made the trip to Cambridge and picked the exotic queen up. She slinks into the back seat, sibilant purr telling us how she left her prince a note on his dinner plate for him to find. You guys read Pavlova's valet's account. According to him, when I spoke with him later on, a ½ hour after he posted what he did (now after 9pm), Pavlova did something totally crazy! He had his valet go to the 'servants cottage' on the estate and get the gardener. In the night, he crazy like had the gardener cut over a dozen fairy roses the estate has several rose bushes of. When he arrived at me and Greg's home, by limo … he had the roses to gift Fairy.
Unlike him, because his elite lifestyle, you are refused and it's improper to visit uninvited. You can't just 'drop in' unexpectedly (I'm just having to) like us 'peasants' do. LOL!!! But I believe he came uninvited because we're not of his elite lifestyle and he was a man driven and obsessed in love.I answered the door completely surprised who our 9:30pm (now) late night visitor was! He snidely looked at me, then in Russian, 'I have come for my femmka. Could you kindly let her know I am here for her.' I was not going to invite him in because I could tell he had no intentions on coming in… So I left him at the door and went to tell Fairy.
Campy queen was too hilarious!!
I told her, 'you're not going to believe this, Pavlova has come to get you.' She pulls me into the bathroom wildly purring, 'help me – get all my make up completely off and rat up my hair – make me look like a fucking mess!'
I couldn't quit laughing as she was splashing water all over the place washing her face several times in overly done fashion. Greg comes to the bathroom door saying, 'uhh… Pavlova wants to know why it's taking so long for you to get Fairy. What the bloody hell are you two doing?!' Fairy's purring, 'Johann, get me something overly dressed and ugly no fucking bare tits.' I'm like, 'I'm a fashion designer, I don't deal in ugly.' She wildly laughs slinking off into me and Greg's bedroom helping herself to our clothes in the closet managing to find 'overly dressed'. We follow her out and I tell her, 'he's at the door, he won't come in, which is expected. I wasn't even going to invite him in.'
​
At the door, I watch as the dashing prince/ballet danseur glances at the glam rock queen then holds out the beautiful over a dozen … fairy … roses saying in his broken English Russian accent, 'I have gardener cut fairy roses for you. I personally picked each one for him to cut.' then he glances at her again and speaks in Russian. Fairy takes the roses putting on a melodramatic grudgingly air, rolls her makeup-less dark liquid brown exotic eyes and looks at me with 'what is he saying?' expression. I translate, 'I did not intend to embarrass you. What has embarrassed you? Sexual things never embarrass you. Or is it because it's coming from me.' I look at Fairy who stands there refusing to look at the dashing prince/ballet danseur as she caresses the silky rose petals. I tell Pavlova in his Russian, 'I know her all too well, being not only her costume designer but best friend, I can tell, Pavlova, that is why. She is seeing the man she is so deeply in love with publicly, before all her adoring fans and others, speaking of her in very sexual ways.'
​He replies in his Russian to me, 'my lifestyle you are not allowed to publicly display such behavior or speak publicly of such things. I take my chances. Of course, I get lashings from Sir Thomas and other important (pause) figures. Rebel just like Nureyev was. They say. He had his hidden forbidden pleasures. They expect mine to be hidden as well.' he grins that haughty grin of his adding smugly, 'after all, I am destined to be the lord of dance Nureyev.' (Below gif is him with the look I'm speaking. Facial expression his idol Nureyev constantly held)
​At that moment, I become aware of his valet Ron Craster at his side translating what Pavlova and I are conversing in Russian to Fairy in English. Pavlova turns his attention back on Fairy saying in his broken English Russian accent, 'we leave now, femmka. If you like, I have Jorge remove things I post and have him tell fans not to comment anymore on it and have him or boy delete all comments made so you won't have to read.' With a toss of her long midnight black hair, the divine lush creature heavily sighs purring, 'your lifestyle is so ordered and regulated, Rudy darling. No, just leave it on there. I think I understand things now. Why you won't (pauses looking embarrassed then purrs) never mind. I just really don't want to talk about it.' and glances at me. I know what she was about to say – why he will rarely kiss her lips … The Persian queen wildly laughs as Pavlova says, 'remember when you kept saying, something you want to happen but not talk about? We do that' I bust out laughing as he gives me a snide look because what Fairy said that he's referring to is her … tits ...
​His fiery Russian Tartar temper is provoked and he angrily spats, 'why you laugh, you insolent fool?! Go on!! Tell me more how I should touch and love MY femmka like you did that time about her tits!! Then she asks if we not think it's embarrassing getting in arguments over her tits.' I reply, 'Pavlova, you are NEVER going to listen to reasoning about that. I have tried to explain and you stubbornly -' my words are rudely cut off as he makes a dismissal gesture spatting, 'no more! I hear no more from you! We leave. Come, femmka, we leave.' I notice him glance at the overly dressed way Fairy is dressed – denying him of her … tits .... I shake my head trying hard not to laugh and tell Fairy, 'you better go. Goodnight.'